12 Must-Know Bathroom Vanity Tips Before Purchasing Your Vanity: Purchasing a new bathroom vanity is an exciting home upgrade. With so many options on the market, it can feel overwhelming to select the perfect one. Use these 15 essential vanity tips to simplify your shopping experience and choose a model tailored to your space and lifestyle.
1. Embrace Vintage-Inspired Styles for Historical Charm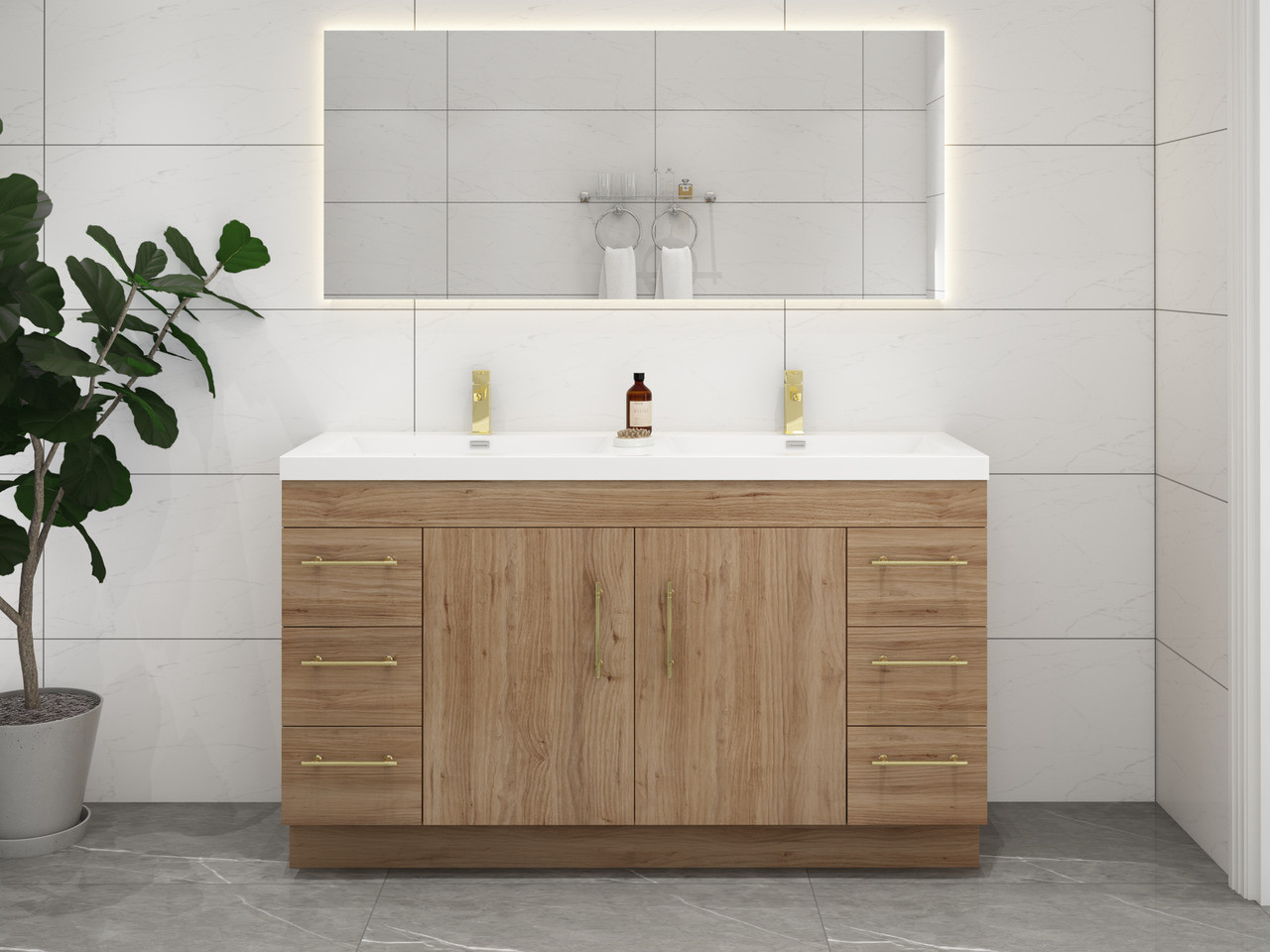 Elsa 60" Double Sink Freestanding Vanity in Natural Oak | Moreno Bath Modern Vintage Vanities
While modern vanities may be all the rage, exploring modern vintage-inspired designs can add personality and historical elegance to your bathroom's decor. Vanities with antique brass hardware and intricate woodwork capture the charm of vintage dressing tables from centuries past and can be a great way to add additional character to your bathroom.
Explore modern-vintage preassembled bathroom vanities here.
2. Visually Expand Small Bathrooms with Floating Vanities
Elsa 30" Floating Bathroom Vanity in Gloss Black | Moreno Bath Elegant Modern Floating Vanities
Bathroom square footage is precious real estate.
Mounted just inches from your bathroom walls, a floating vanity's unique airy design can make even cramped baths feel more spacious – through the illusion of freeing up more floor space.
Thus, floating vanities with airy designs have been used by prominent bathroom designers as their secret weapon to help beautify small bathrooms and powder rooms.
More information: "What is a Floating Vanity" here.
Learn how to install a floating vanity like a professional here.
3. Select the Right Vanity Height for Ergonomic Comfort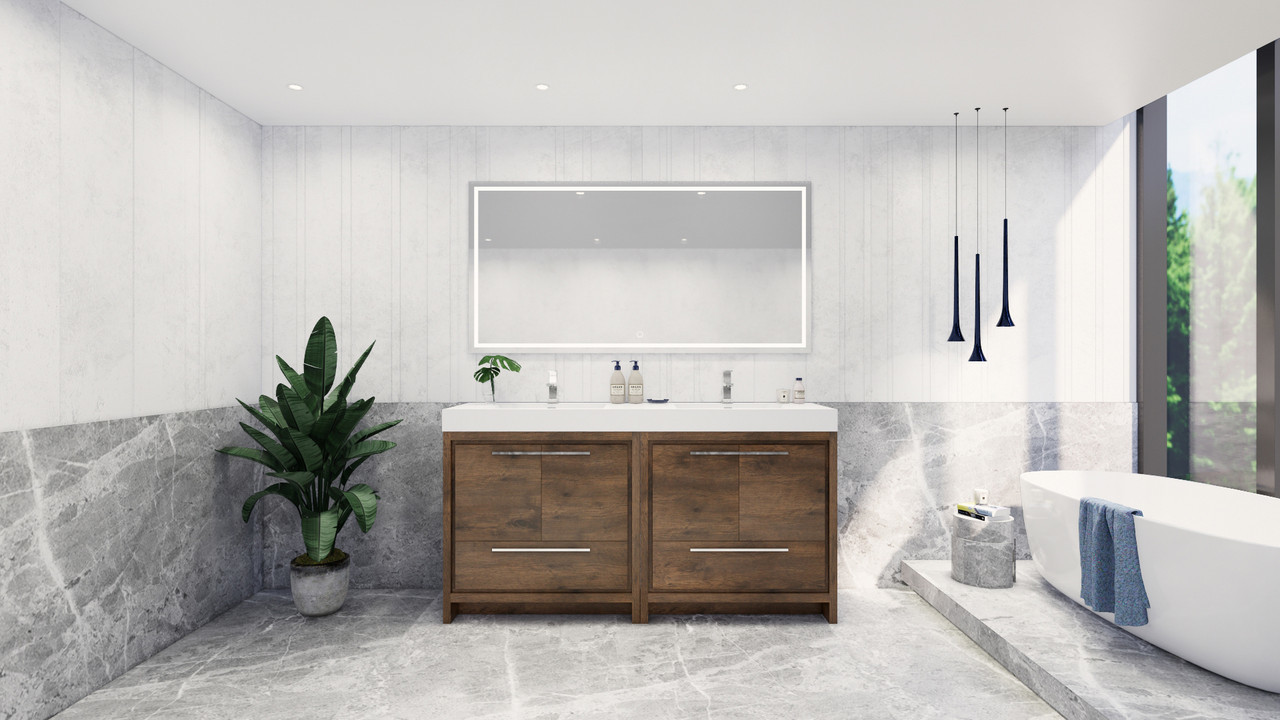 Dolce 72" Double Sink Double Freestanding Vanity in Rosewood | Moreno Bath Vintage Modern Vanities
Standard Vanity Heights Range Between 30–36 inches for comfort.
Historically, the average bathroom vanity height falls between 30–32 inches. But those who prefer more comfort or have mobility issues may want to opt for a taller 36-inch vanity.
It's essential to choose a size that's both functional and proportional to your bathroom space.
Explore more on standard vanity heights, sizes, and dimensions here.
Explore bathroom vanities by inches in width and size here.
4. Opt for Durable, Moisture-Resistant Woods for Vanity Material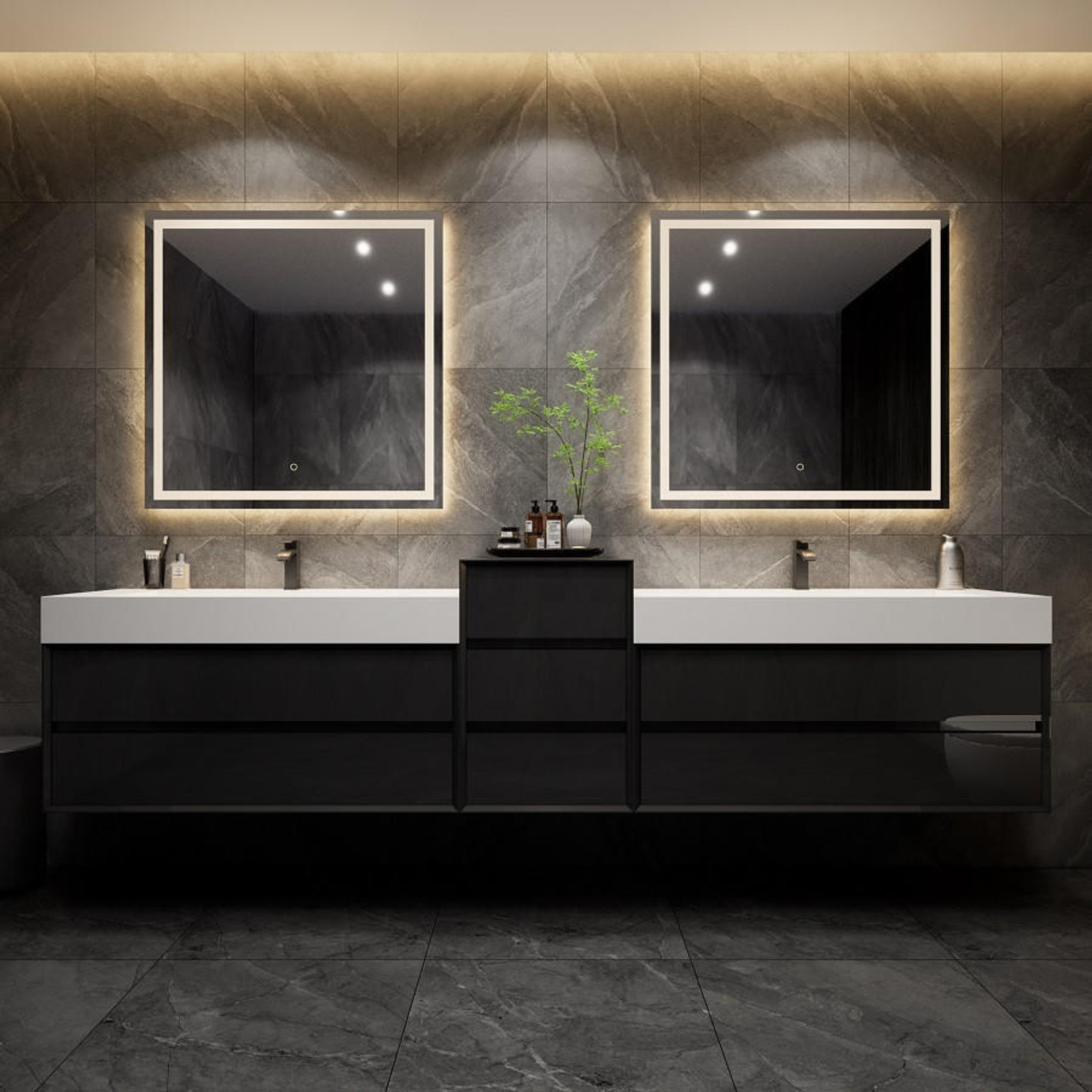 Max 116" Modern Floating Bathroom Vanity with Nano-Tech Body | Moreno Bath Modern-Contemporary Vanities
The material of your vanity plays a significant role in its longevity.
Select Moisture-Resistant Woods Like Oak for Durability
Wood types like oak, maple, and cherry naturally withstand moisture and the wear and tear of daily use.
When shopping for a wooden vanity, look for hardwoods known for their density and durability.
Stay away from softer woods like pine that show water damage easily.
Exploring Modern Sustainable Vanity Options
If you're eco-conscious, bamboo or nanotech modern vanity bodies also provide a sustainable, water-resistant option.
Explore modern nanotech water-resistant vanities here.
5. Consider Integrated Sinks for a Streamlined Contemporary Look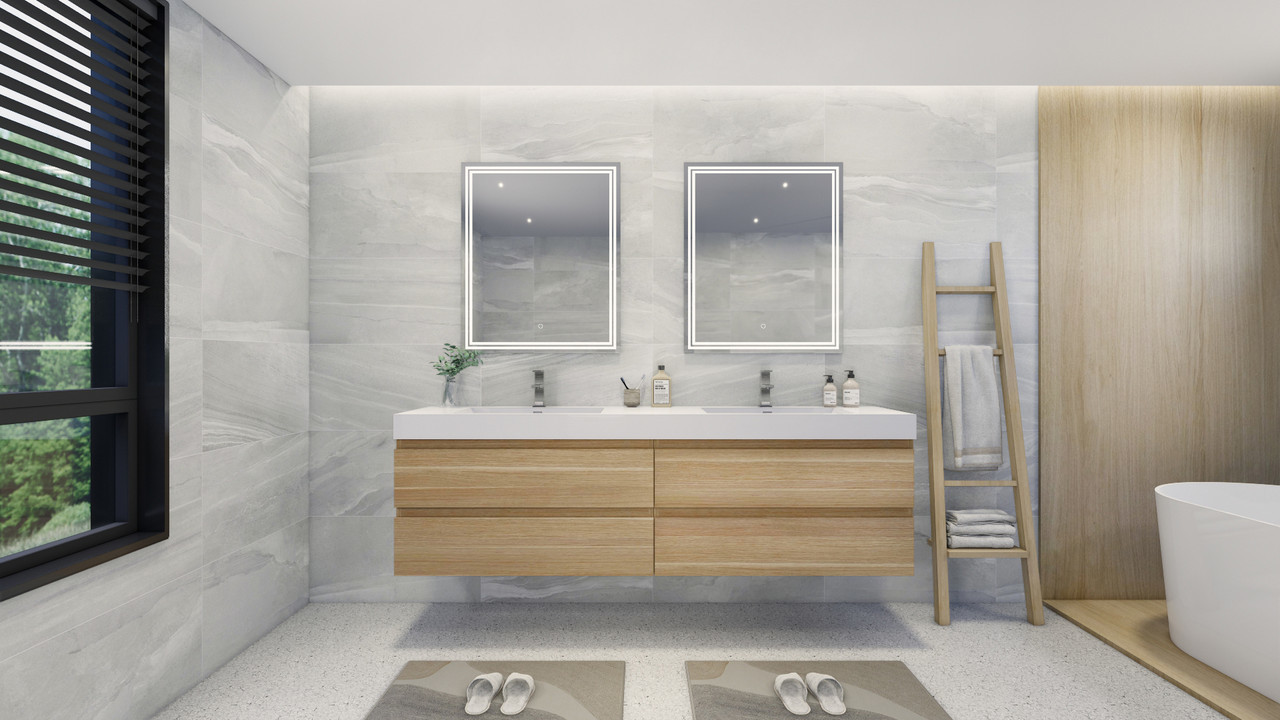 Fortune 84" Floating Vanity in White Oak | Moreno Bath Modern Floating Vanities in Oak
What are Integrated Sinks: Integrated sinks, which are built directly into the countertop, offer a sleek look. With fewer grooves than drop-in sinks, integrated models are also easier to clean and maintain, integrated sinks are generally easy to clean.
Benefits of Integrated Sink for Vanity Top: Integrated sink basins are seamless with the vanity countertop, creating a clean, contemporary look. With fewer cracks and crevices than drop-in sinks, integrated models are also easier to wipe down and keep sparkling clean.
Explore the Fortune Floating Vanity Collection here.
6. Secure Vanities to Wall Studs for Added Stability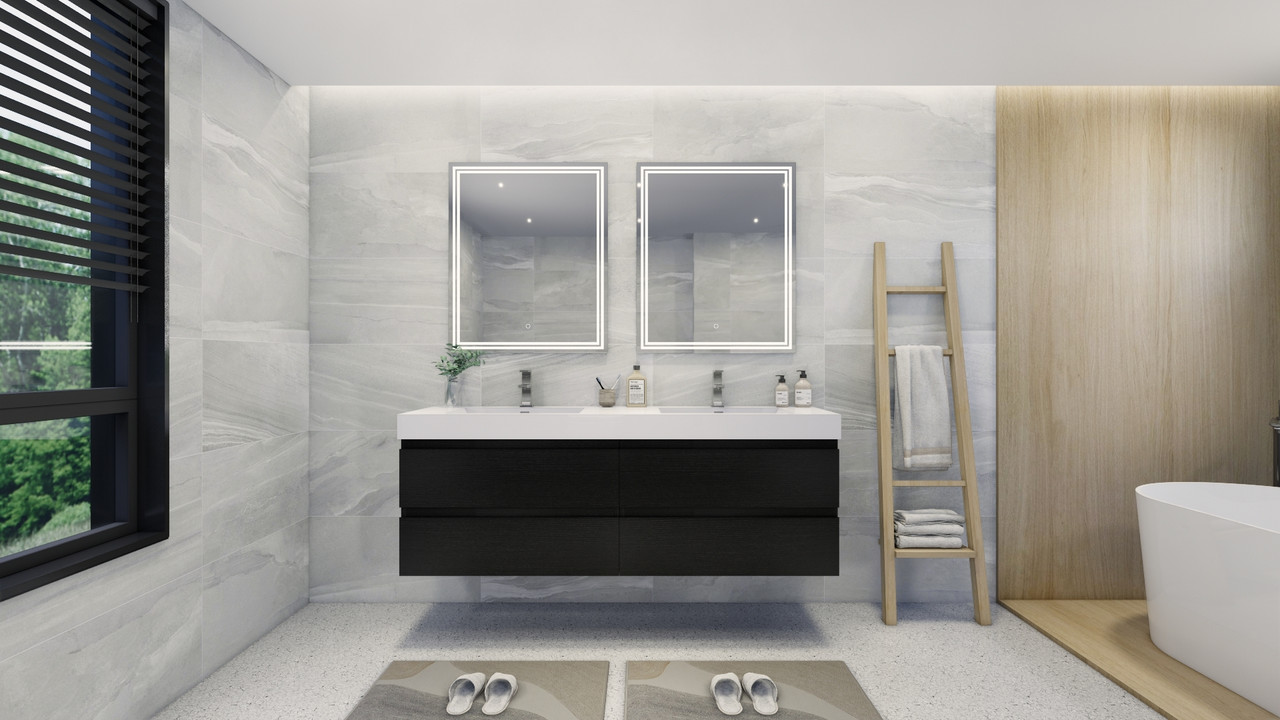 Fortune 72" Floating Vanity in Rich Black | Moreno Bath Modern Floating Vanities
Prevent wobbles and future leaks by securely fastening your vanity to wall studs during installation.
Pro Vanity Installation Tip: Locate studs with a trusty stud finder, and use long screws or a French Cleat to anchor heavier vanities to the framing behind drywall. Proper support prevents leaks over time.
Explore the Fortune Floating Vanity Collection here.
7. Inject Color With Bold or Pastel Vanity Hues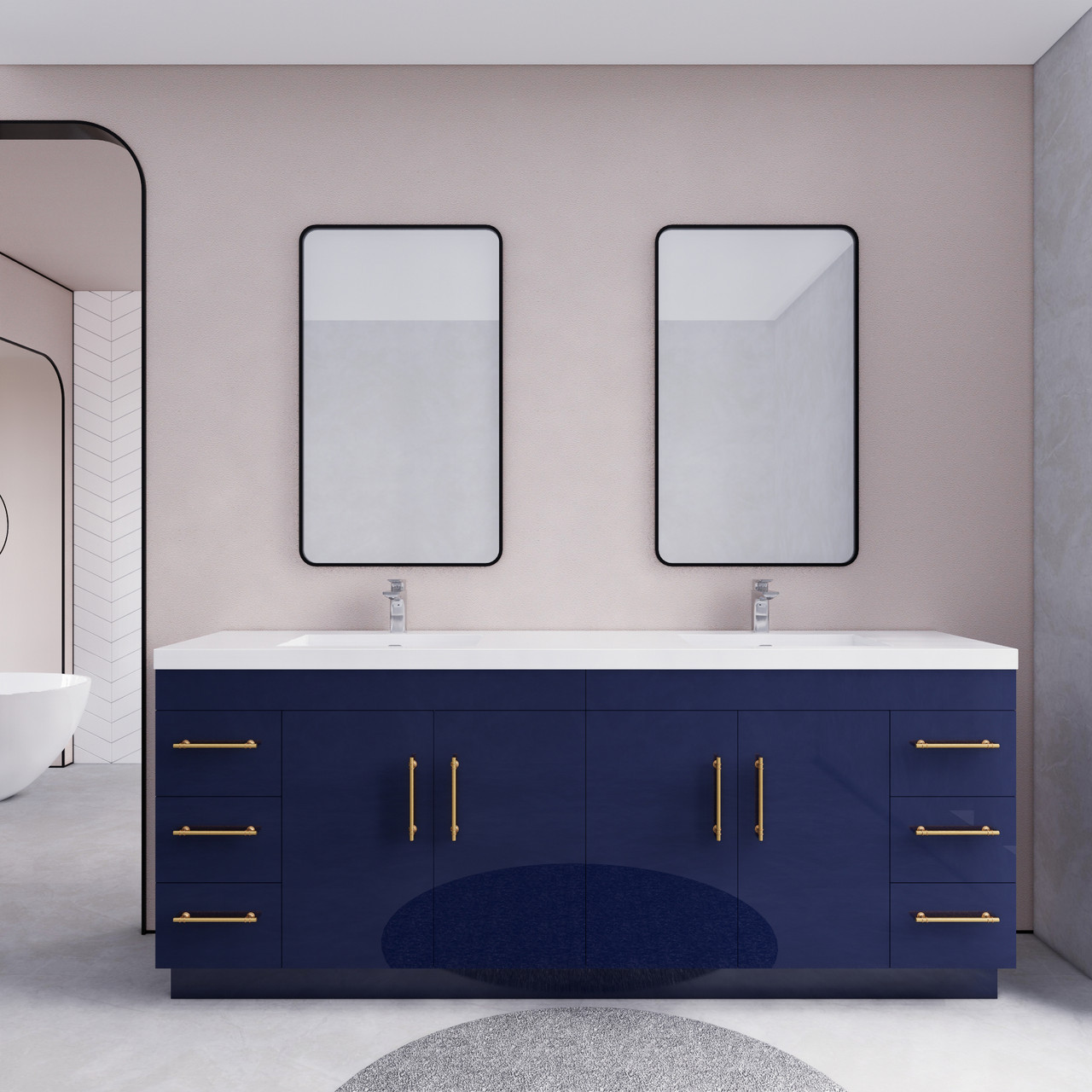 Elsa 84" Freestanding Vanity in Gloss Black | Moreno Bath Freestanding Navy Blue Vanities
Timeless, classic white vanities suit any decor.
But vibrant navy, black, or pastel vanities add personality!
Choosing a darker vanity shade will beautifully contrast your acrylic white or marble counters, giving you a timeless, chic style.
Explore the Best Navy Blue Vanities of 2023 here.
Explore vanities by color here.
8. Consider Drawers vs. Cabinets for Optimal Vanity Storage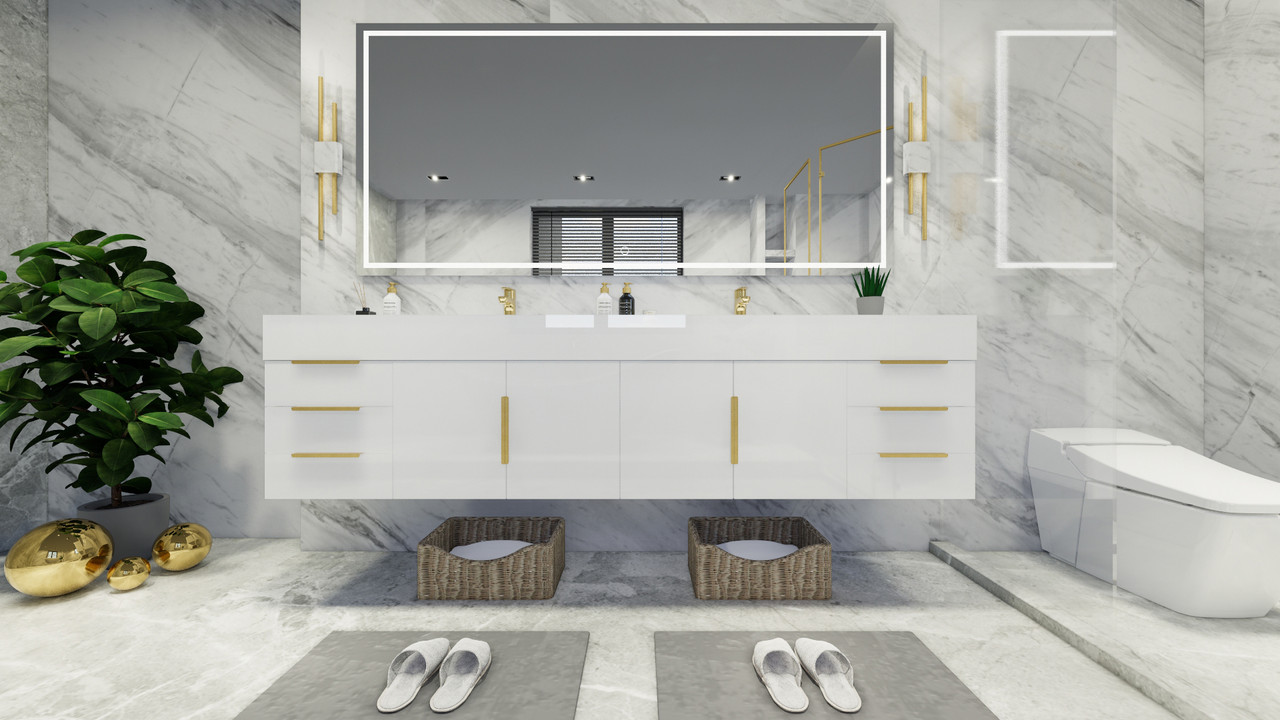 Bethany 84" Floating Vanity in Gloss White | Moreno Bath Modern Art-Deco Inspired Eclectic Vanities
What about your bathroom storage needs?
While drawers often provide better organization than cabinets, having a mix of both can offer optimum storage solutions.
This is especially useful for shared bathrooms, where double-sink vanities can provide personal space for each user.
Opt for vanities with a mix of drawers and doors to hide clutter while keeping must-haves easily accessible.
Explore best-selling vanities with drawers and cabinets here.
Explore all 60" - 72" Double Sink Vanities here.
Explore all +80" Extra Wide and Extra Large Vanities here.
9. Pair Your New Vanity with Matching Vanity Mirrors for Added Ambiance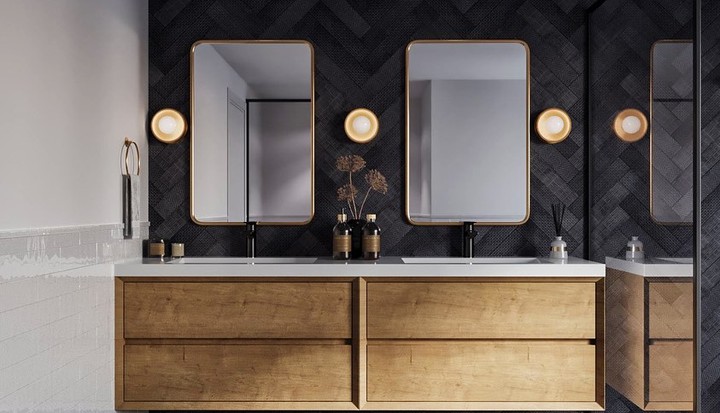 Kingdee 84" Floating Vanity in White Oak | Moreno Bath Modern Coastal Vanities
A stunning vanity deserves an equally stylish mirror.
Some vanities even come with perfectly matched mirrors.
Select a mirror that coordinates with your vanity's size, shape, and design for a cohesive look and extra added ambiance.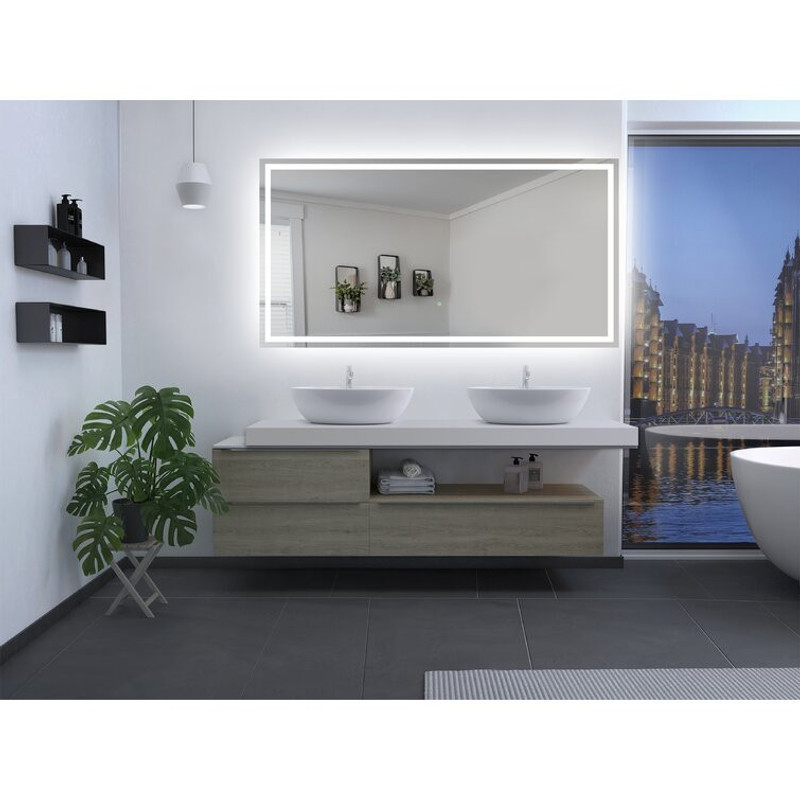 Twinkle 76" LED Lit Vanity Mirror | Moreno Bath Modern LED Lit Vanity Mirrors for Bathroom
Vanity Mirror and Lighting Tip: Your vanity and mirror should be in harmony. Lighting is equally crucial; position lights at eye level on either side of the mirror to avoid shadows and ensure even illumination.
Explore LED vanity mirrors here.
10. Don't Be Afraid to Explore Trending Colors & Materials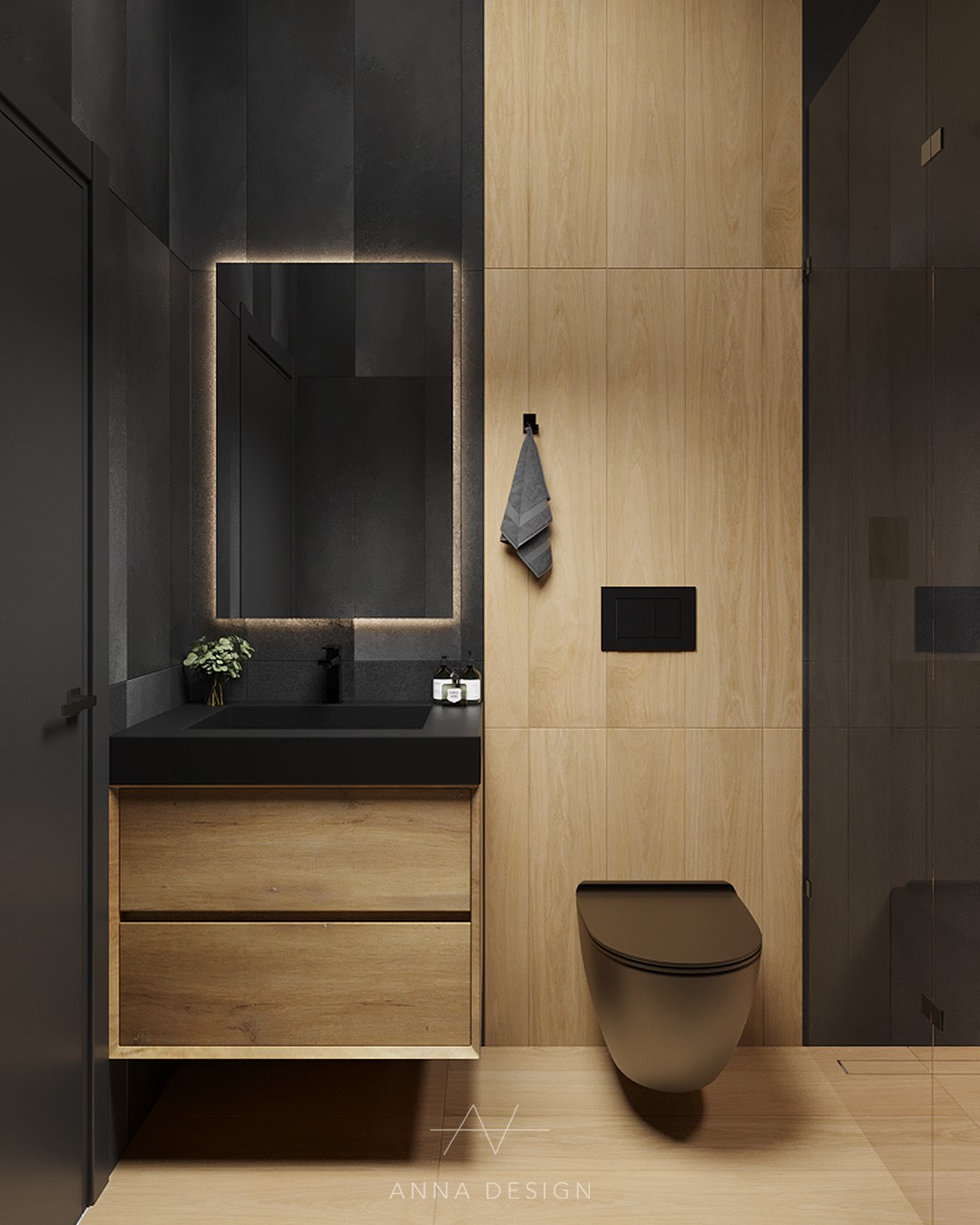 Kingdee 30" Floating Vanity in White Oak with Black Steel Sink | Moreno Bath Modern Floating Vanities
Trending colors and materials can be combined for a timeless look.
Trending Colors and Materials: While neutral colors remain timeless, don't shy away from bolder hues like navy or green to add a splash of personality. In terms of materials, wood tones like white oak and walnut are currently in vogue, adding warmth and texture to your space.
Shop the Best Light Wooden Vanities of 2023 here.
11. Protect Your Vanity: Proper Ventilation & Mounting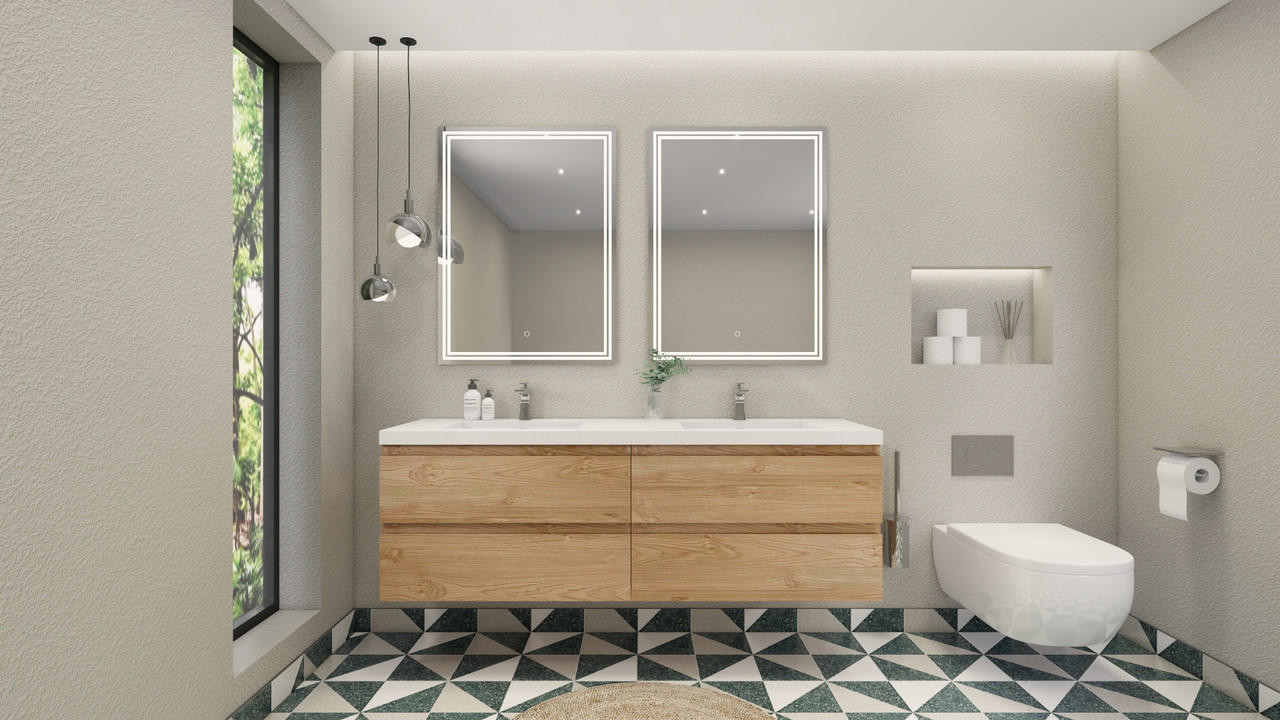 Bohemia Lina 72" Floating Vanity in New England Oak | Moreno Bath Modern Floating Vanities
Vanity Installation and Maintenance: Always ensure that your vanity is securely fixed to wall studs, particularly if you're opting for heavier stone countertops. Additionally, proper ventilation in your bathroom can extend the life of wooden vanities by reducing humidity levels.
12. Give Yourself the Ultimate Luxury: Soft-Closing Vanity Doors & Drawers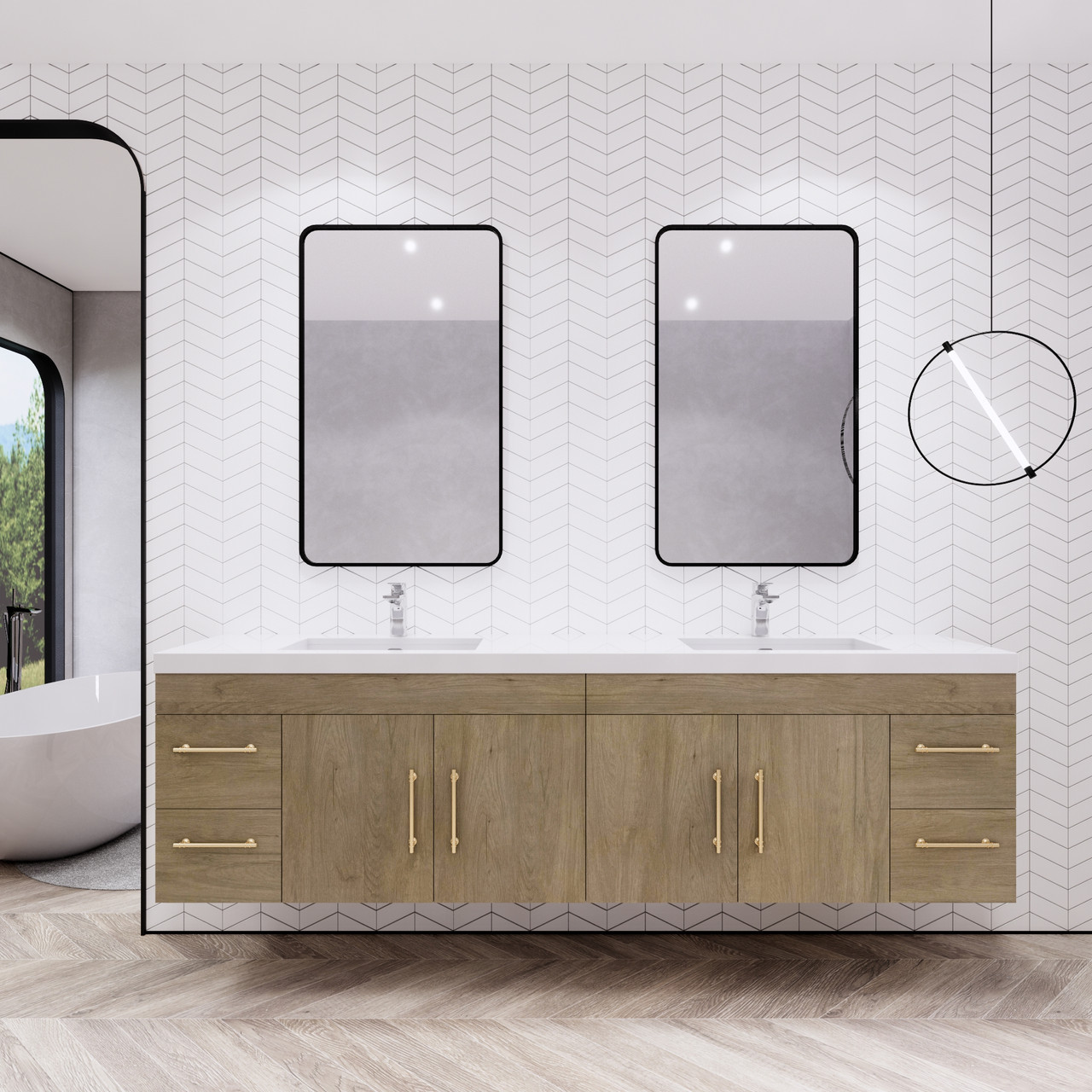 Elsa 84" Floating Vanity in White Oak | Moreno Bath Modern Floating Vanities in White Oak
Upgrade for Comfort: Soft-close hardware provides a smooth, quiet experience. Consider investing in soft-close doors and drawers. Having soft-closing vanity hardware provides a quiet and seamless experience —an essential asset for bathrooms near bedrooms.
Explore all soft-closing vanities here.
In conclusion, while aesthetics are essential, functionality, and durability should never be compromised. Keep these tips in mind, and you're sure to find a vanity that's both beautiful and perfectly suited to your needs.
While style matters, never compromise on functionality and durability. Use these vanity shopping tips to find the perfect model for your needs and tastes!