What is a Bathroom Vanity?
What is a Bathroom Vanity Meaning: A bathroom vanity is a station where you can wash your hands and will typically feature things such as:
Mirrors
Cabinets
Bathroom Sinks
Bathroom Products
Towel Racks
Generally, the traditional term "bathroom vanity" consists of sink + mirror + cabinet, although cabinets or storage space is not technically required for a "bathroom vanity."
What Materials are Used for Bathroom Vanities?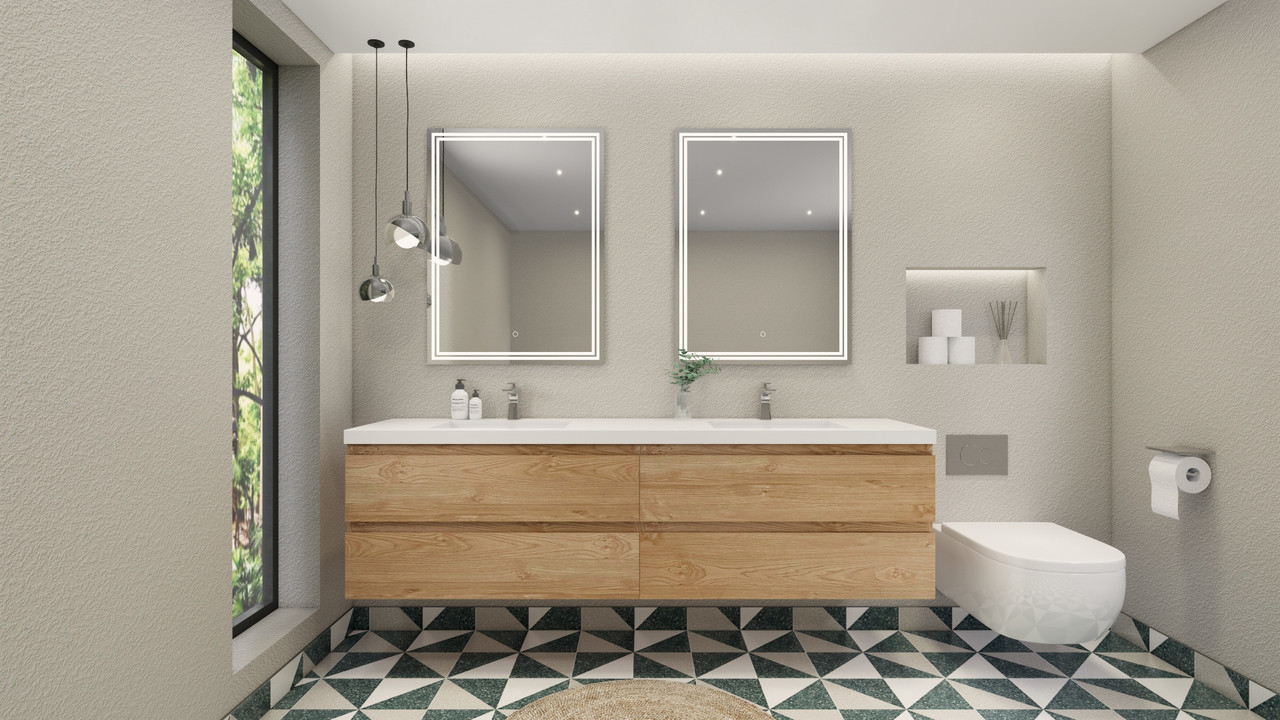 Vanity Materials: The most common and popular bathroom vanity material worldwide is wood.
Some of the most popular or sought-after wood used for the best vanities include hardwoods such as oak, maple, and birch. In terms of wood color, there are many vanities that feature dark wood colors such as mahogany or rosewood, down to lighter wood or oak colors such as light oak, white oak, and New England oak.
See popular floating vanities in New England Oak, Natural Oak, Light Oak, White Oak, and more here.
Other popular bathroom vanity materials include stone, ceramic, glass, wood, and metal.
What are the Sizes Available for Bathroom Vanities?
What are The Standard Bathroom Vanity Sizes: The standard sizes or widths for bathrom vanities in inches range from 24", 30", 36", 48", 60", and 72."
Of course, this can differ greatly between different styles and brands and although some product titles may state 24" or 72," it is always highly recommended to check the specific dimensions of the vanity unit before purchase to make sure that the exact, precise dimensions will fit in your bathroom use.
What are the Standard Bathroom Vanity Depths: The standard depth of a bathroom vanity from the front of the vanity to the rear or back of the vanity is usually somewhere betwen 20 to 21 inches.
There are also now a growing trend of narrow-depth option vanities which are at a minimum of 18 inches in depth.
What is the Standard Bathroom Vanity Height: The standard bathroom counter height or bathroom vanity height is normally seen somewhere between 30 and 34 inches. Although this has been the standard for some time, there is now a growing trend of "comfort height" vanities, which are seen around 36 inches in height. How tall you want your vanity or vanity counter to be entirely depends on you, but it is a good idea to keep it somewhere around these ranges to keep a clean and natural look for your bathroom.
What is the Most Popular Size for Bathroom Vanities?
Most Popular Bathroom Vanity Size: Although vanity sizes will mainly depend on your bathroom space - the size of your bathroom and the available space you have - note that there is a growing demand for vanities within the 24-35 inch range. This may be due to the fact that these smaller vanities are favored by small or multi-unit homeowners - perfect for their economy and for smaller bathrooms and homes where space may be an issue.
How Much Should You Pay for a Bathroom Vanity?
What is The Average Bathroom Vanity Unit Cost: A new bathroom vanity unit can range between $300 to $3800. This may or may not include costs such as installation. For a solid, long-lasting vanity unit with a good build, you can generally expect to pay a minimum of at least $500 for the vanity unit alone. The average cost of a bathroom vanity unit can differ greatly due to size, style, materials, craftmanship, and customizations if included. For example, a solid wood vanity made of quality hardwoods such as oak, maple, and birch, can easily cost upwards of $3800 before shipping and installation.
What is The Average Bathroom Vanity Installation Cost: Generally, a bathroom installation can cost between $200 to $1000 per unit.
Stock Bathroom Vanity Unit vs. Custom Bathroom Vanity Cost: If you are looking to customize a bathroom vanity unit, you may add somewhere between $500 to $280 to the cost of your vanity.
How Much are Bathroom Vanity Units: Although these numbers differ widely as bathroom vanities come in all shapes and sizes, with differing build material, cuts, and more, a good average that most homeowners fall in is spending under $2600 for purchase and installation of a new, modern bathroom vanity.
More information on the total and average costs for a Bathroom Remodel in America 2023
Where to Buy Bathroom Vanity or Vanity Sets
Purchasing Your Bathroom Vanity Sets: There are many providers that can offer bathroom vanity sets of both the bathroom vanity and sink top together.
If you want a truly customized experience, you can purchase separate bathroom vanity cabinets and sink tops separately, provided that the bathroom vanity storage cabinet and sink top are compatible in size.
Generally, it is recommended to purchase bathroom vanity cabinets and sink top sets to ensure easy and compatible installation together, especially if you are a beginner in DIY home improvement.
Does a Bathroom Vanity Need to Be Attached to a Wall?
Generally, bathroom vanity units do not need to be attached to a wall, but this can differ depending on the type of vanity you have. For example, a wall-hanging or floating bathroom vanity is a relatively new type of bathroom vanity model that is "floating" or "hanging" from the wall. In this case, the floating vanity does need to be attached securely to the wall to support itself. Although it takes slightly more work to attach a floating or wall-mounted vanity to a wall due to this fact, a floating or wall-mounted vanity are very popular for small bathrooms where space may be an issue.
Does a bathroom vanity need to be flush with the wall or side wall?
In most cases, the vanity should be flush against the wall-with no space between the vanity and the wall. This is done to help hide and protect the important components such as plumbing, as well as protect critical crevices or openings in the vanity that might expose it to water damage or other elements.
What Does Flush With or Against Wall Mean: "Flush" to the wall or against the wall simply means that there is no space between the back of the item or vanity and the wall itself. To put a vanity "flush" against the wall means to place it in a way that there is no space whatsoever between the vanity and the wall. This is done to help hide and protect important components such as plumbing.
Does a Bathroom Vanity Need a Backsplash?
Having a backsplash for your bathroom vanity is generally recommended. Without a backsplash, your vanity may be exposed to wall and water damage that can result from water seeping and sitting behind the bathroom sink. Other dangers may include paint damage: even with the use of waterproof paint, there can still be long-lasting damage or issues that appear with constant water contact. Due to these reasons, having a backsplash guard for your vanity is highly recommended to keep it at the best shape and value for the long haul.
Does The Bathroom Vanity Go on Top of Tile?
Do You Tile Underneath the Bathroom Vanity: Depending on your bathroom remodel project goals, the answer may differ. For example, if you are leaving your current vanity, you will not need to tile under it. On the other hand, if you are replacing a vanity, it is recommended to tile under it. This is particularly true for floating vanities - it is always a good idea to tile underneath your new floating or wall-mounted vanity.
An example of this would be a pedestal sink, which can be considered a bathroom vanity if paired with a vanity mirror.
Why is it Called "Vanity"?
Vanity can be seen as shorthand for vanity mirror. These are mirrors placed atop bathroom sinks and are used to apply makeup or perform skincare routines, such as night or day routines. As such, vanity mirrors give us a place where we can take care of ourselves and inspire a sense of pride or admiration for our appearance.
Some of the more modern vanity mirrors include LED lights, and bathroom variants are known as medicine cabinets or medicine cabinets with LED lights.
Although first referenced to mirrors, we now use "bathroom vanity" as the term generally means mirror, sink, and cabinet. However, depending on where you order your bathroom vanity, a mirror may not be included with the purchase or must be purchased separately.
This term has been around for a few hundred years, dating back to the 1750s when a mirror was attached to the dressing table and considered a glamour item [2].
Bathroom Vanity Styles in 2023
Bathroom vanities can take many shapes and forms.
Some sink vanities or vanity tops include a single-mounted sink, or a double sink to make it a double-sink vanity. All in all, there is a wide selection of bathroom vanity types to choose from.
As long as there is a bathroom sink and support below it, or storage, paired with a bathroom mirror, it can be considered a bathroom vanity.
Mainly vanity styles can be grouped into 2 different categories:
Floating vs Freestanding Vanities: Key Differences & Benefits
Floating vanities seem to be a trending bathroom renovation item - but does that make them better than freestanding vanities?
While we offer both freestanding and floating vanities, floating vanities have recently taken attention due to their sleek, clean, and minimal look and can be a great way to elevate your bathroom decor to something more modern and aesthetically pleasing.
Yet, both freestanding and floating vanities have important pros and cons that should be fully considered - before making the big purchase.
Below lists the significant pros and cons of a floating vanity vs. a freestanding vanity. What the different vanity styles and models are, as well as how both freestanding or wall-mounted AKA floating vanity models compare in terms of aesthetics, storage, installation difficulty, long-term value, and more.
Floating AKA Wall Mounted Vanity
Modern Floating Bathroom Vanity Example: The Max 24" Floating Wall-Mounted Vanity comes in multiple sizes starting at 24" across, as well as in multiple diverse colors from Teak Oak, Gray Oak, Glossy White, Gloss White, and more.
A floating vanity or wall-mounted vanity is a vanity that seemingly "floats" above the bathroom floor - without standing on any legs. This is achieved by fixing the bathroom cabinet to the bathroom wall.
"Floating" and "wall-mounted" or even "wall-mount" vanity generally refer to the same thing.
Floating vanities can be a beautiful addition to your bathroom, particularly if you are going for a clean, minimal, sleek, modern look as seen in the floating bathroom vanity picture examples below. In bathrooms where stone, tile, or marble are used floating vanities can add dimensions and layers to your bathroom sophistication.
Check out our new, amazing contemporary-designed floating vanities that have taken the world by storm.
Pros of Floating Vanities
Ultra-modern and contemporary look suited for similar homes, bathrooms
Does not stand on floor tiles - will allow tiles to show fully as part of the display of your bathroom appearance
Easy-to-clean underneath
Gives the appearance of a larger bathroom due to its "float"
Depending on the make or model, plumbing is sometimes not hidden - which can be good if you are looking for a "rustic" sort of bathroom
Cons of Floating Vanities
Vanity positioning may be more limited depending on the existing plumbing
Generally more limited in terms of storage space than freestanding vanities
Structurally robust walls are required to hang a floating vanity: drywall and weaker materials will not work
Freestanding Vanity
The Elsa Freestanding Vanity is a popular freestanding vanity. This freestanding Elsa vanity is 84" in length across and comes in several different colors and sizes. Note that it does not require wall mounts as it is standing freely on its base.
Opposite of a "floating" vanity, the freestanding vanity stands on its own: using its legs, its own storage cabinet bottom as support, or both.
Simply put, a freestanding vanity is a bathroom storage cabinet with a bathroom sink on top of it, generally paired with a vanity mirror on top of it to complete the look.
Pros of Freestanding Vanity
Classic and timeless vanity style that will work with almost any bathroom design, layout, etc.
Comes in a wide variety of styles and pieces that can work with any bathroom new or old
Generally holds more storage space compared to floating vanities
Less floor space to clean when the floor is connected to the vanity using a kickboard
Covers up 100% of all plumbing work within the cabinet
Easier to use particularly for the elderly and children
Possibly slightly easier to install than floating vanity due to the lack of need to provide structural support
Cons of Freestanding Vanity
Freestanding vanities take up more space and do not offer the "large" bathroom feel that a floating vanity can give
May leave permanent marks on the floor when dismantled
Installation: Floating vs. Freestanding Vanity (Video Guide Example)
If you are very new to DIY bathroom remodeling and may be wary of possible DIY installation troubles, rest assured that installing both floating or freestanding vanities even for beginners is possible. At the most, you can hire a handyman or a professional to help you install your floating or freestanding vanity securely.
Ease of Installation: Freestanding vs Floating Vanity
Generally, freestanding vanities are usually the easier out of the two to install because it is not required to provide structural support to the freestanding vanity as opposed to a floating, wall-mounted vanity which may require a bit of drilling or work, such as a French Cleat to help secure it to the wall.
In either case, it is important to secure the vanity to the wall so that it doesn't move once the plumbing is connected for both floating and freestanding vanities.
Although it is generally a bit easier to install a freestanding vanity, this shouldn't detract you from looking at floating or wall-mounted vanity options for your home or project.
The Best Vanity to Choose is the One That Makes You Smile!
Although cost can be a factor, having a great-looking bathroom with a pleasant, matching aesthetic can do wonders to help raise your home or property value.
Moderate remodeling of your bathroom can increase your home property value by an average of 3%
When planning to remodel or renovate your bathroom, it is always good to plan long-term ahead into what you want to see, and possibly wake up to every day in your future!
For any more questions or help in relation to bathroom vanities, and other bathroom accessories, please feel free to email us at sales@morenobath.com or call us directly at +1 (909).536.2222.
View More Valuable Vanity Guides & Articles
Is This Vanity Right for Me? Benefits of a New Bathroom Vanity
How Much Should a New Bathroom Vanity Cost? Bathroom Remodel & Renovation Budget Guide
Best Modern Bathroom Vanity Brands & Trends for an Aesthetic Home
Bathroom Vanity Styles & Materials Guide: Choosing the Perfect Fit for Your Home