7 Serious Reasons to Remodel Your Bathroom: Is your bathroom in dire need of a makeover? A bathroom remodel can bring some serious benefits to your home, both in terms of functionality and aesthetics. From increased bathroom storage space to improved energy efficiency, there are countless reasons to consider renovating your bathroom. Here are the top reasons to remodel your bathroom, according to industry experts.
#1. Increased Bathroom Storage
One of the most common reasons to remodel your bathroom is to increase storage space. This can be done by adding a new vanity or a bathroom cabinet.
Pro Tip: Add Bathroom Storage Without Plumbing:
If you want to add additional storage space to your bathroom without the hassle of plumbing, a slim linen side cabinet may be a good idea. A graceful linen cabinet can help you increase storage without the hassle of plumbing – for a clean feeling and peace of mind.
The Fortune Floating Vanity Series can be complimented with the addition of a matching Fortune Wall-Hanging Linen Cabinet. Available in a variety of colors, this hanging linen cabinet can be a great addition to your home. Especially so if you are tight on bathroom space, as its vertical design can help fit into small spaces for creative bathroom storage solutions.
#2. Improved Bathroom Functionality:
A remodeled bathroom can also improve the functionality of your space. In most cases, a larger shower or a new bathtub can help make your bathroom more comfortable and user-friendly.
#3. Increased Home Value:
Aside from the pure organizational and aesthetic benefits, remodeling your bathroom can also help increase the value of your home. A bathroom remodel is one of the most cost-effective ways to build your home's value, and a new vanity can be a significant selling point for future buyers.
#4. Lavish Home Modernization:
Updating your bathroom can give it a fresh, modern look. A new vanity, tile, or other types of bathroom fixtures can completely change the overall look and feel of your bathroom.
#5. Energy Efficiency:
An upgrade to a new bathroom with modern features like LED lights, motion sensors, and water-saving faucets can also make your bathroom more energy efficient, which can ultimately save you money on your utility bills. In addition, taking this conscious step forward can also help the environment by reducing your carbon footprint.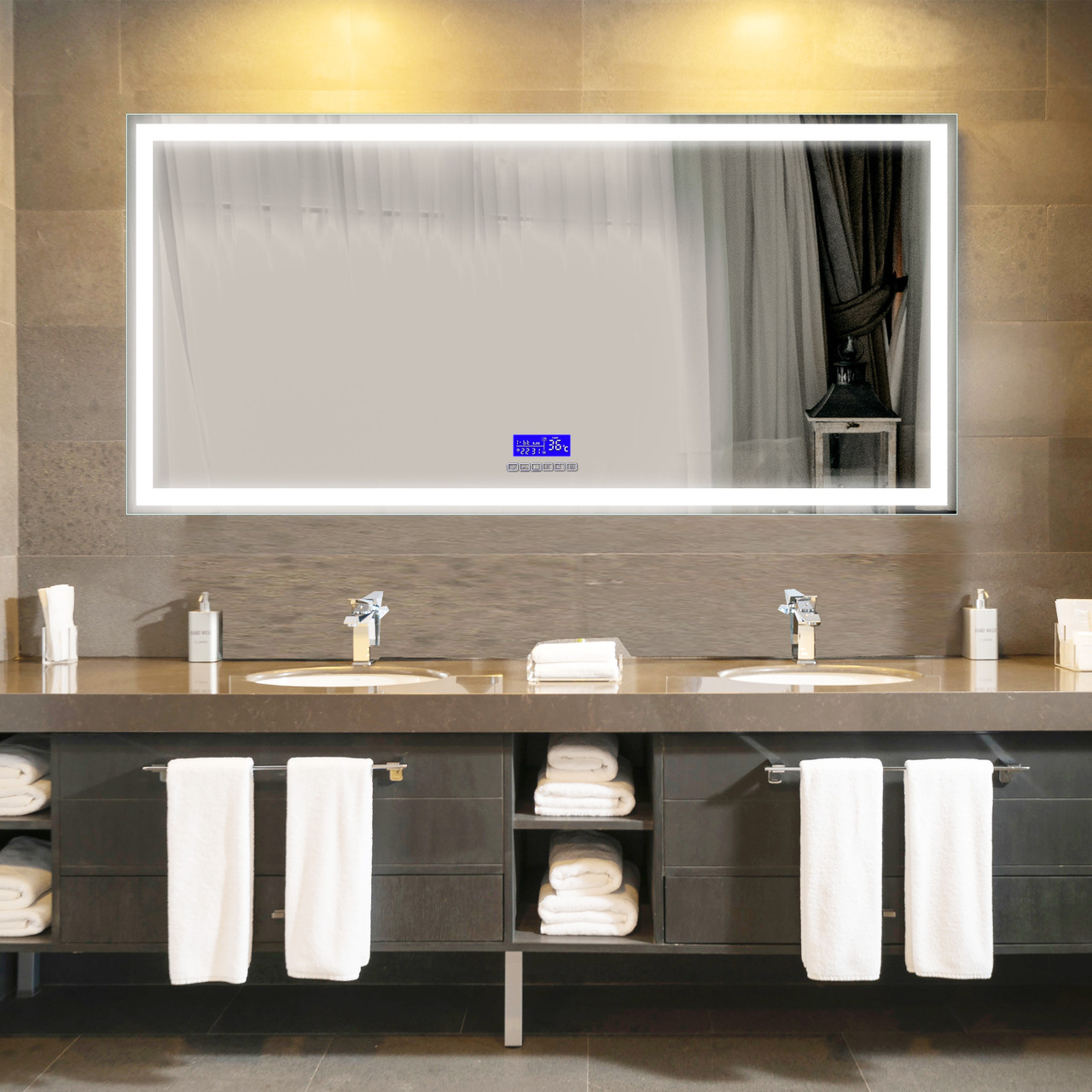 The Moreno Florence LED Mirror with Bluetooth can add a modern touch to your bathroom space. Find more LED bathroom mirrors in our mirrors section.
#6. Style & Personalization:
With the wide range of styles, colors, and materials available, you can choose a bathroom remodel that perfectly reflects your personal taste and style. From modern, and contemporary, to classic or traditional farmhouse, the style you select can really make your bathroom feel like a true reflection of you and your home.
#7. Durability & Long-Lasting Value:
A remodeled bathroom can be more durable than an older one. With new modern materials, finishes, and construction methods, a remodeled bathroom with new fixtures can last for many years to come.
In conclusion, remodeling your bathroom can bring a wide range of benefits including increased storage, improved functionality, increased home value, modernization, energy efficiency, personalization, and durability. If you're looking to plan or finalize your bathroom remodel or renovation, be sure to check out our bathroom vanities for the most up-to-date styles and models for your home.
View More Valuable Vanity Guides & Articles
Key Differences Between Floating & Freestanding Bathroom Vanities
How Much Should a New Bathroom Vanity Cost? Vanity Purchase Guide
Bathroom Vanity Styles & Materials Guide: Finding the Perfect Vanity for Your Bathroom
Best Modern Bathroom Vanity Brands for Bath Storage Space
Finding Your Ideal Vanity: 2023 Bathroom Vanity Benefits & Buyer's Guide