Best Bathroom Vanity Brands to Look Out For in 2023: When it comes to bathroom remodeling and renovation, choosing the right bathroom vanity or vanity cabinets is crucial. By bringing in a new vanity to your bathroom, you can help improve your bathroom decor, as well as help increase your bathroom storage space and overall bathroom space. Done right, improving your bathroom or guest bathroom with a new vanity can help increase the value of your home and add fine elements of harmony and beauty to your living space for 2023.
Yet, with so many online options today, it can be overwhelming to make a decision.
To help you find your way through trending and popular modern bathroom vanity options today, we have compiled a list of the top 11 best brands of modern bathroom vanities. These vanities are known for their overall build quality, modern design, and reputation within the industry. Whether you're looking to renovate your bathroom, envisioning a new powder room, or looking for new high-quality bathroom vanities with tops, vanity countertops, double vanities, single vanities, and more, these unique vanity brands can help you get started on improving your bathroom decor.
The Max Bathroom Vanity Collection
Known for its sleek and minimalist design, the Max Collection is a top choice for those looking for affordable high-end bathroom vanity rooted in bold minimalism.
Ranging in a wide range of sizes, colors, and styles, you'll be sure to find that the new Max Collection will add a new dimension and functionality to your modern bathroom remodeling project.
The Elsa Freestanding & Floating Bathroom Vanity Collection
Built with a clear focus on quality and craftsmanship, the Elsa Collection is a luxurious bathroom vanity collection available in both freestanding and floating wall-mounted variations.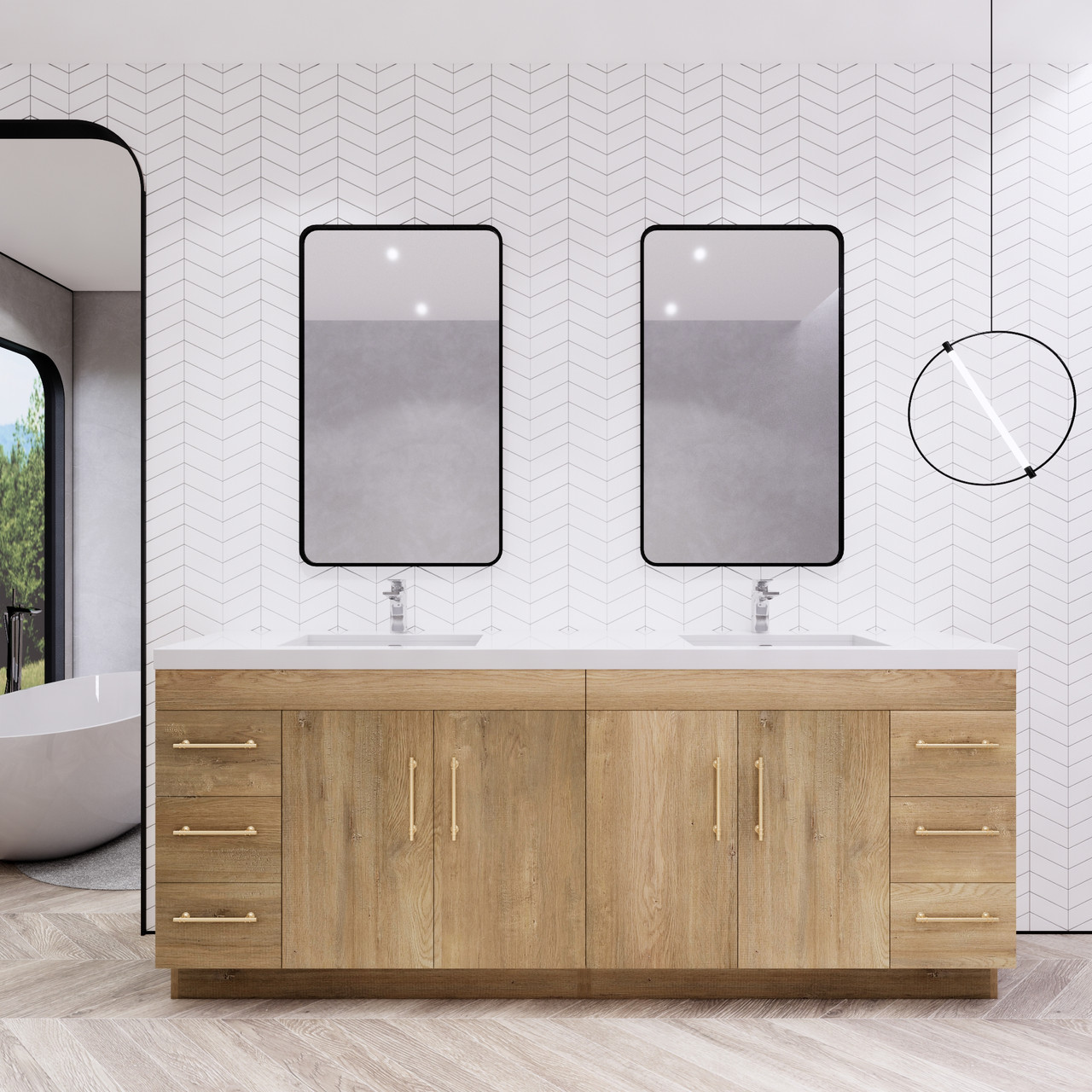 Blending the line between modern, and contemporary, the Elsa Collection features a chic vanity that will add a new level of elegance to your bathroom.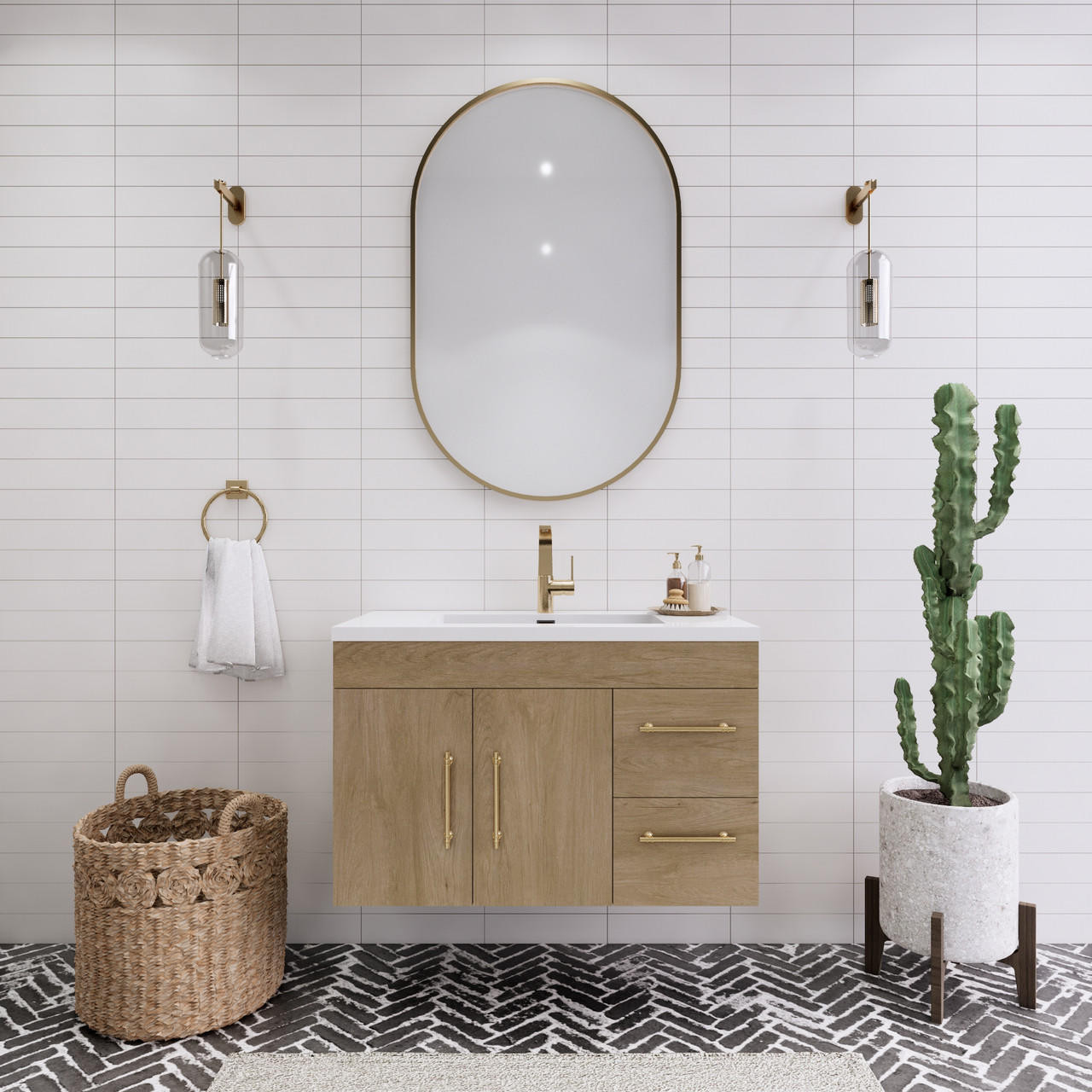 The Elsa Collection features beautiful gold or black handles, as well as our signature soft-closing European cabinet doors.
Widely popular and able to complement many bathroom styles, the Elsa is one of our most popular vanities for the general bathroom renovation industry and personal DIY home projects.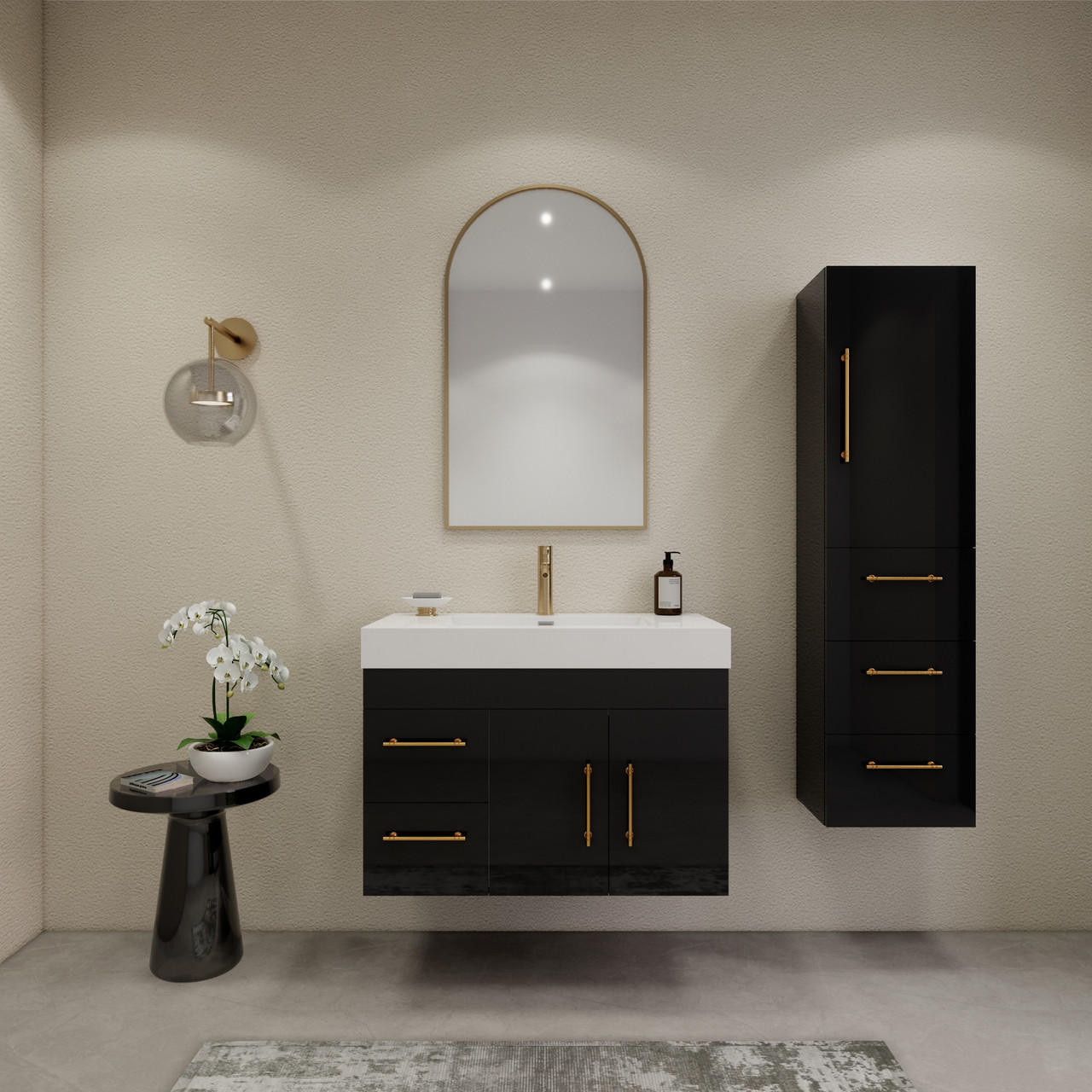 The Elsa in Gloss Black can be a great addition to your bathroom space. Note the beautiful gold metallic handles that provide a great contrast to the Gloss Black finish.
Explore the full Elsa Vanity Collection here.
Sage Bathroom Vanity Collection
The Sage Collection of bathroom vanities is characterized by clean lines and contemporary style. Known for its innovative design and high-quality materials, The Sage Collection offers a great option for those looking for a modern and functional bathroom vanity.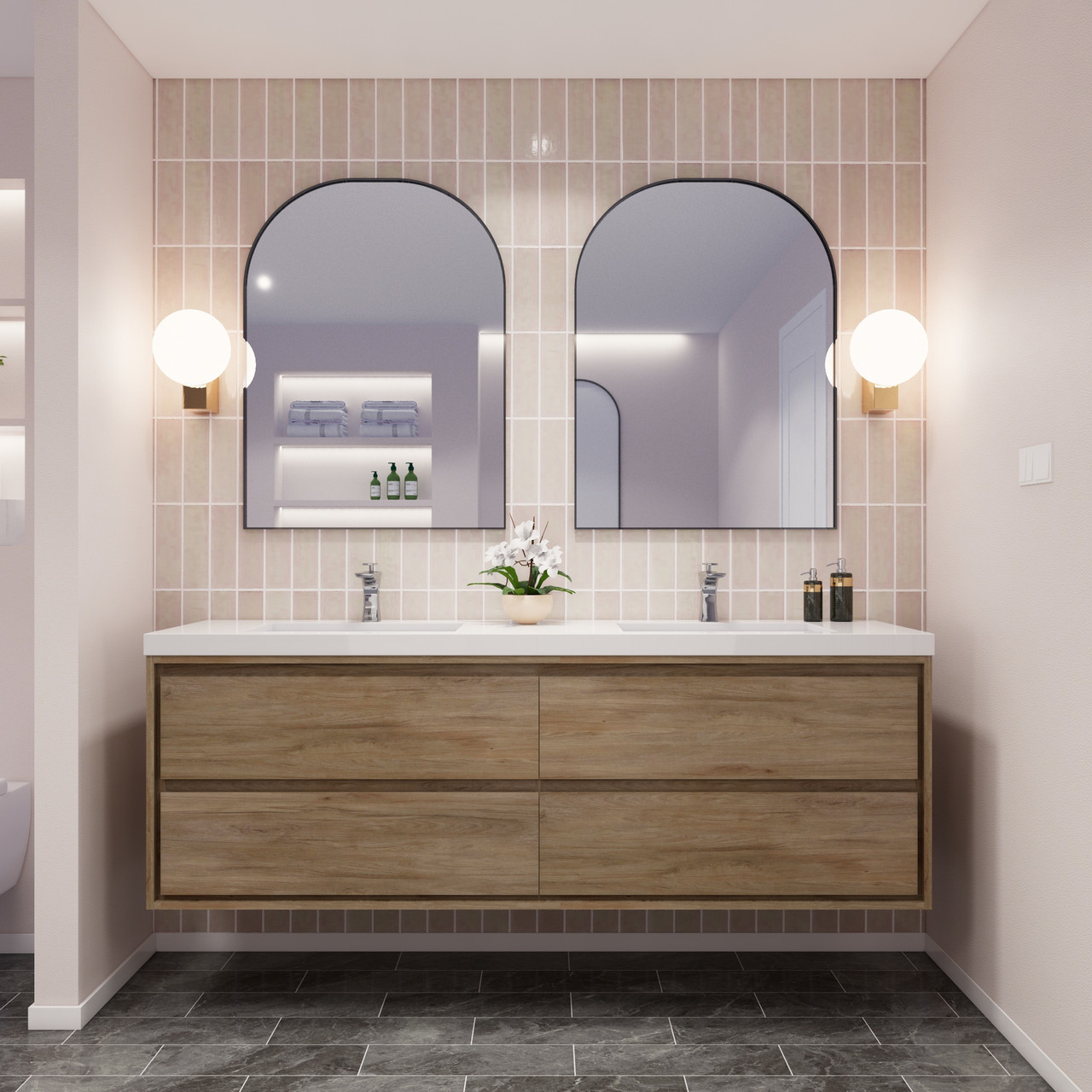 With its clean aesthetic and features, The Sage is one sure way to optimize your home value and bathroom remodeling home project.
Kingdee Floating Bathroom Vanity Collection
The Kingdee Collection bathroom vanities are known for their durability and longevity. As such, Kingdee is known as one of our most popular brands in North America.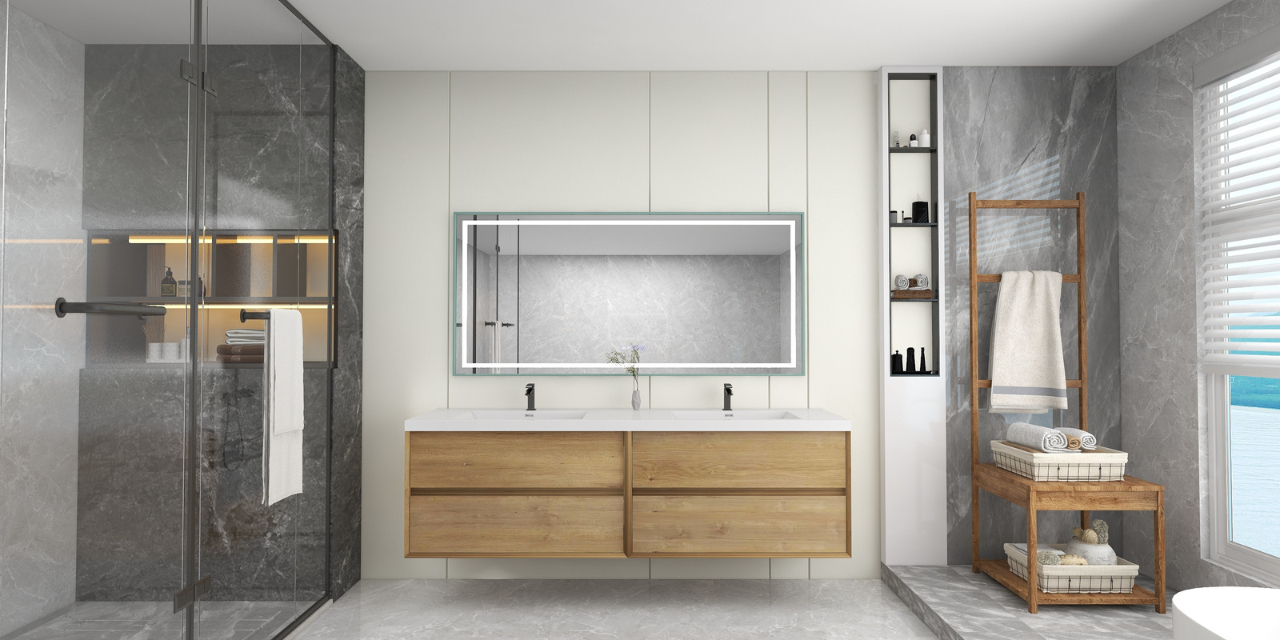 Available in solid wood options and made from high-quality materials, these vanities are built to last and are a great option for those looking for a long-term investment in their bathroom renovation.
The BOW Floating Bathroom Vanity Series
The BOW Series is a newly added bathroom vanity brand known for its high-quality bathroom vanity materials and modern wood finish.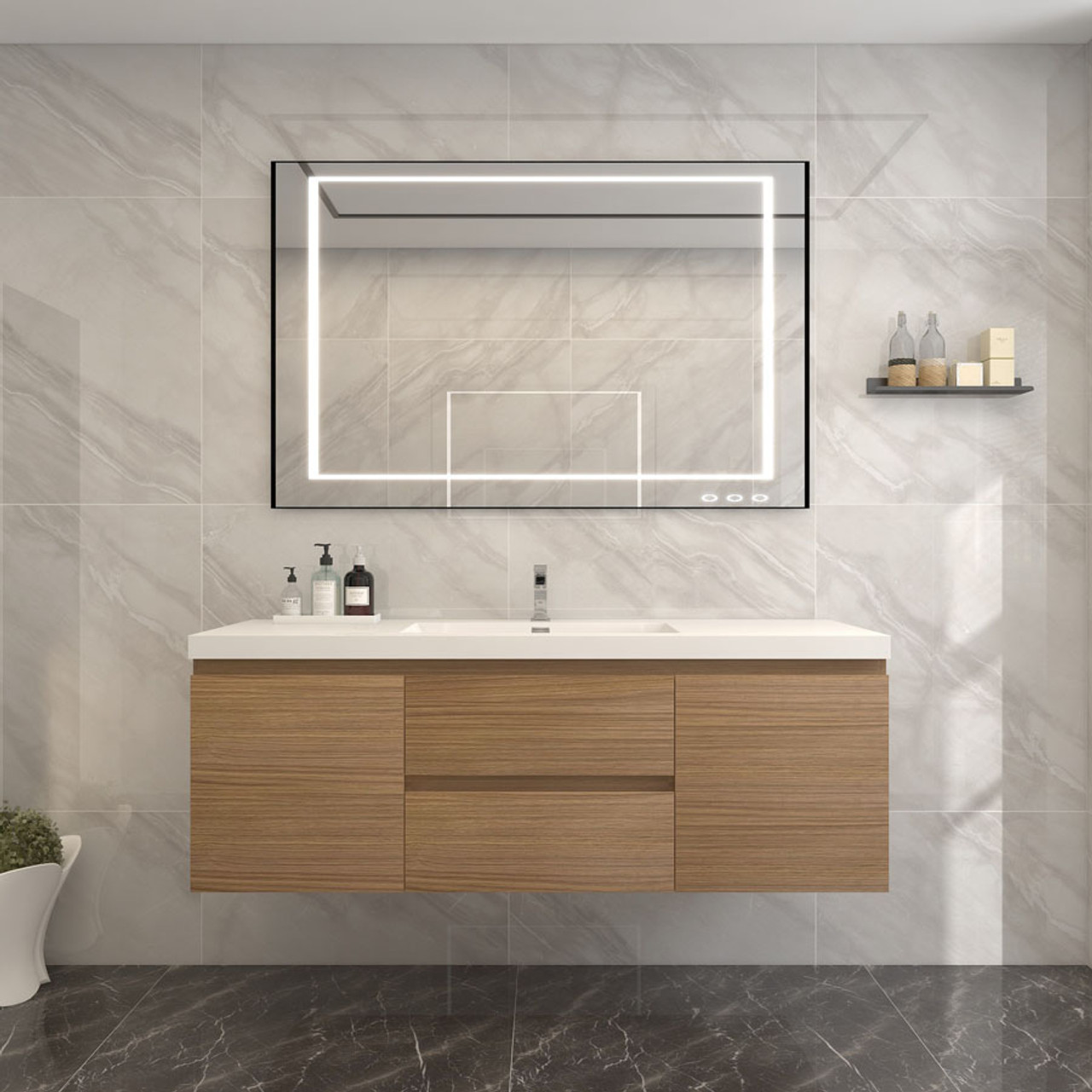 Available in a range of muted and warm colors, the BOW series adds a subtle elegance and is a great option for those looking for another durable and stylish option for their bathroom remodel.
The Alysa Floating Bathroom Vanity Series
One of our most modern and minimal bathroom floating bathroom vanities, The Alysa Floating Bathroom Vanity Series provides a clean look for any bathroom.
A key feature is a floating sink above the vanity cabinet that can help modernize and refresh your bathroom space and bathroom decor with its minimal solid wood design and use of white space.
Featuring a floating sink atop a floating cabinet, the Alysa enables a spacious open-space layout for your sacred bathroom space. Its mantra: deliver more with less.
Bethany Floating & Freestanding Bathroom Vanity Series
Drawing from the beautiful history of art deco design and architecture, the Bethany Floating & Freestanding Bathroom Vanity Series delivers a glamorous and elegant feel to any modern bathroom.
Combining Marble & Gloss
A stunning combination to look out for is the Bethany in Gloss Black paired with high-shine bathroom materials such as marble floors or high-gloss acrylic bathroom vanity tops and sink options.
The Bohemia Floating Vanity Series
Available in a wide array of colors and sizes, The Bohemia Floating Vanity Series is one of our original and premier floating vanity brands that has also stood the test of time and popularity.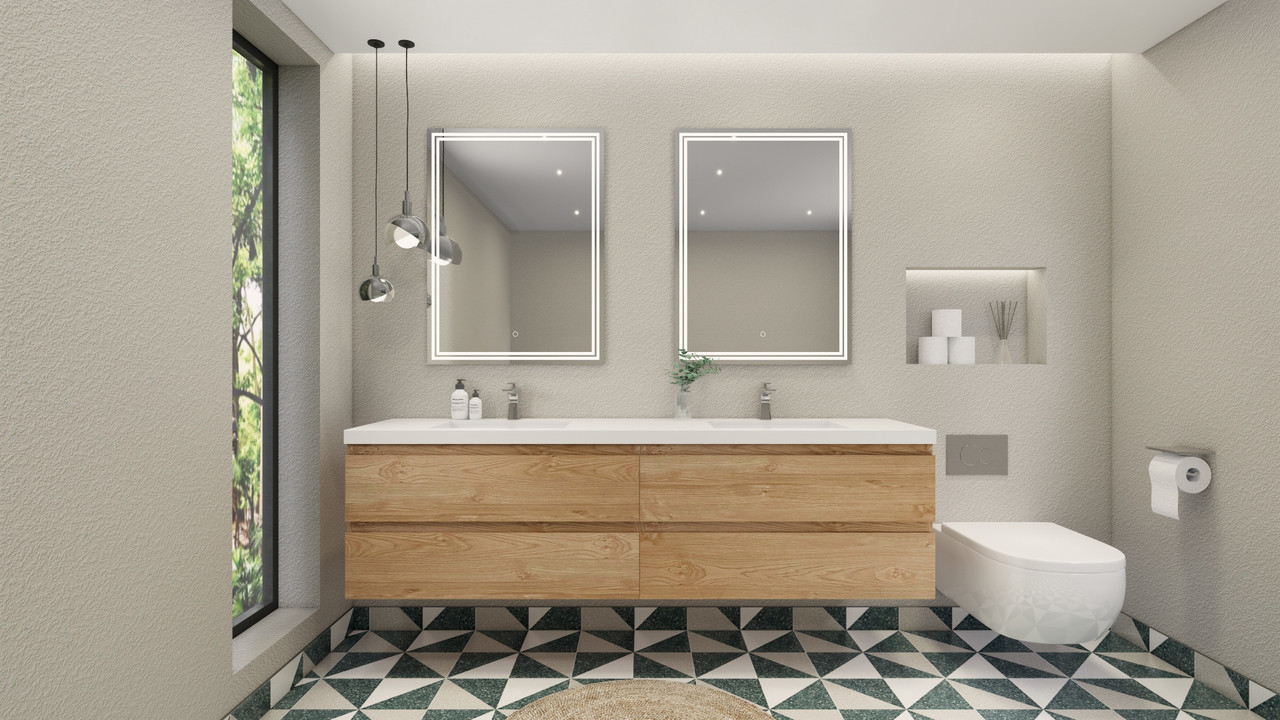 Built into the moisture and water-resistant base are four soft-close European-design drawers that offer ample room for toiletries and towel.
This floating vanity comes assembled for easy installation, and is available in gloss or wood finishes.
Explore the Full Bohemia Lina Collection here.
Bella Floating Vanity Series
The Bella or "Beauty" Series holds our ranks as the epitome of the modern universal vanity.
Particularly bold and striking in modern solid wood colors such as light oak, The Bella Floating Vanity Series is subtle yet rich enough in detail to make for a fine addition to any clean bathroom decor.
Angeles Freestanding Bathroom Vanity Series
Known to sport a sleek and efficient design, The Angeles Freestanding Vanity Series is versatile enough for any bathroom.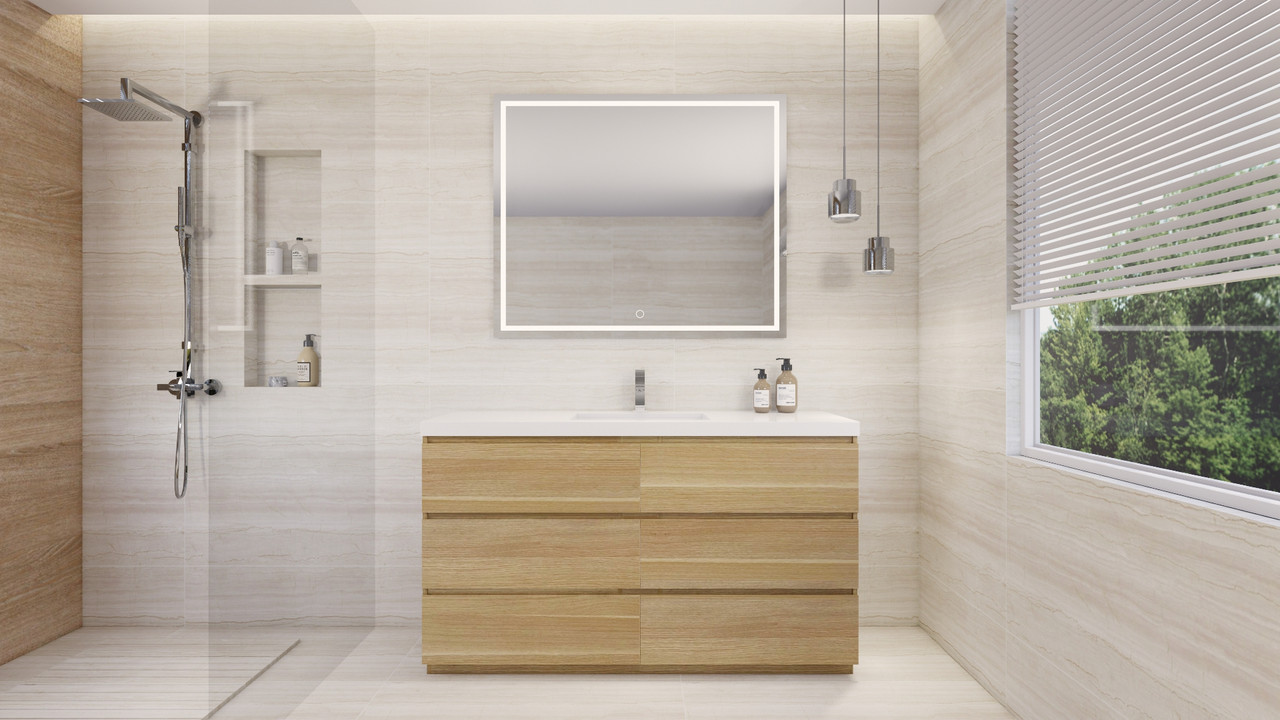 Featuring easy compartments and ample storage space with three spacious soft-closing drawers, the Angeles will be sure to make for a memorable bathroom experience through various high gloss and wood finishes.
Jade Floating Vanity Collection
One of our most popular and elegant bathroom vanities, The Jade Floating Vanity Collection comes with a Marine Veneer Constructed Console that is fully moisture and water-proof.
Featuring high-quality European DTC hardware for soft-closing drawers, the Jade is one of our longest-running vanity brands that have stood the test of time. How so? By providing exceptional value to personal and business projects nationwide.
See the Jade 48" Floating Vanity in Natural Oak or Rosewood here.
Fortune Floating Vanity Collection
The Fortune Collection has been a longstanding collection that blends classic, warm natural grain body with a clean and modern sink. Resulting in a timeless combination, the Fortune appeals to many people from all walks of life.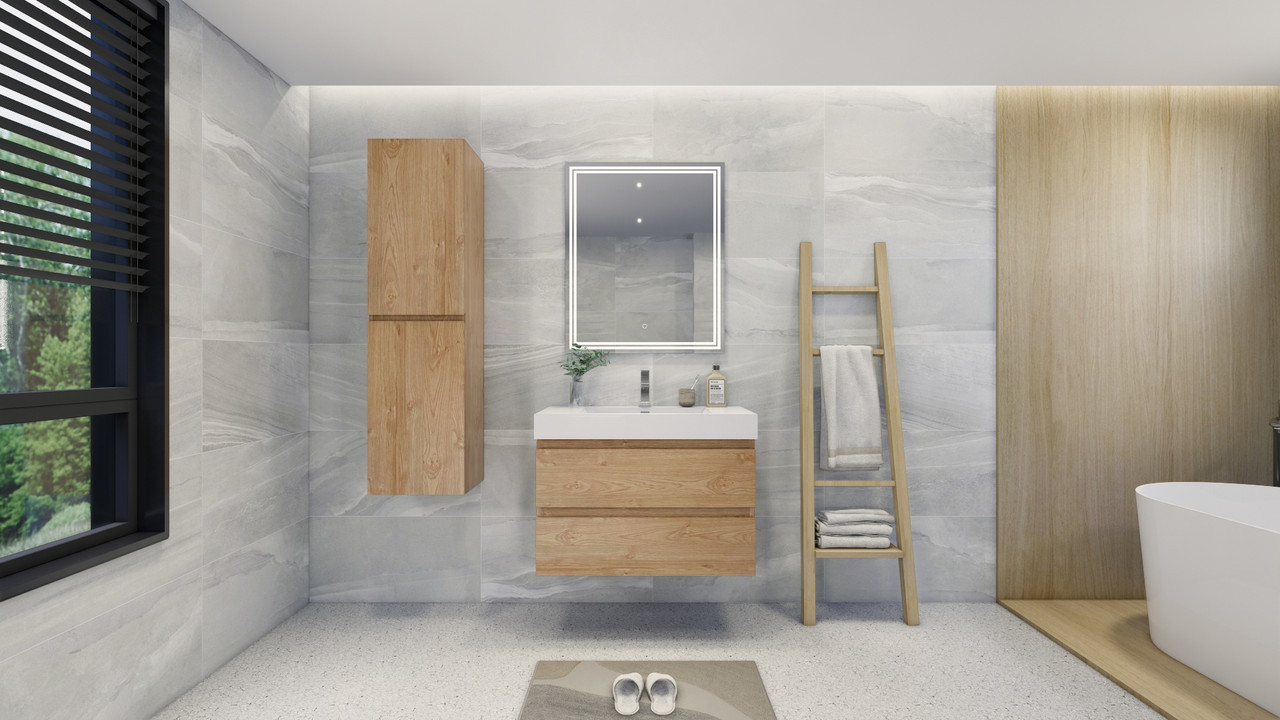 Available in several sizes from 24" to 84," the Fortune Series is perfect for those who would love to add a timeless vanity to their modern bathroom.
Explore the full Fortune Floating Vanity Collection here.
Dolce Freestanding Vanity Collection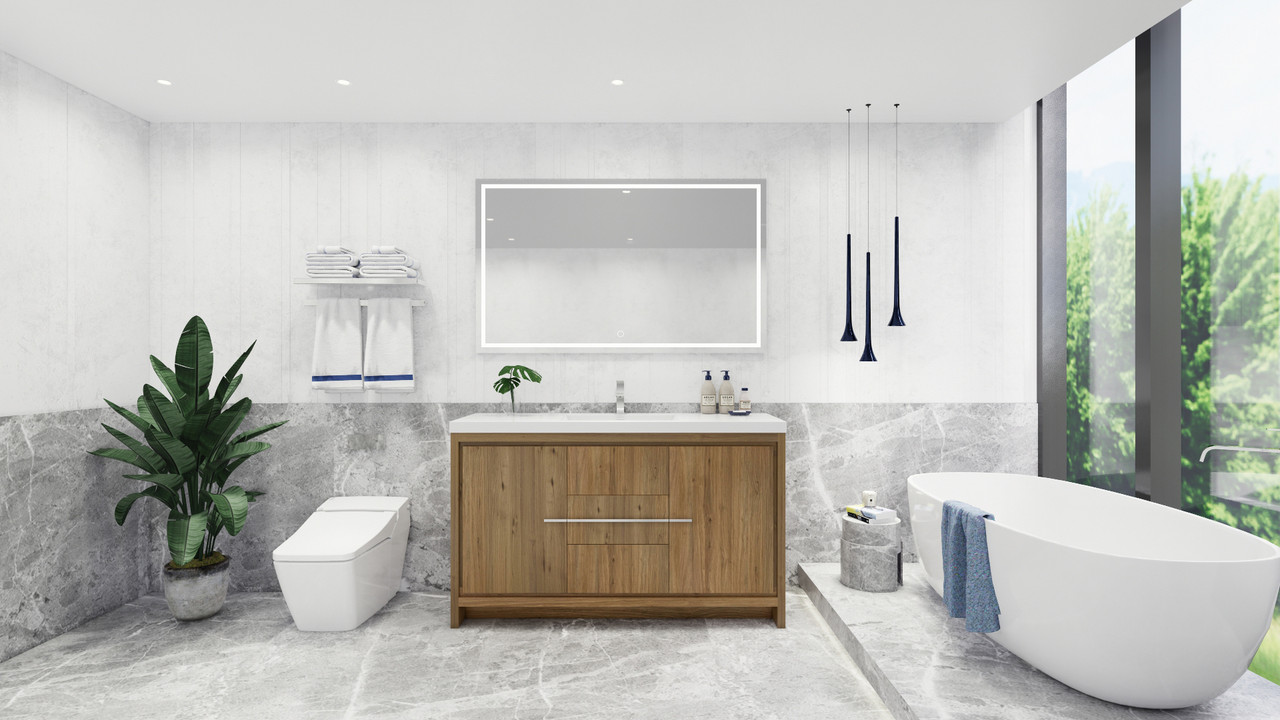 Perfect for a more modern coastal look, the Dolce Freestanding Vanity Collection shines when it combines its natural oak body with white clean tones such as marble or glass.
Additionally, as a freestanding vanity, the Dolce offers even more storage space for your bathroom needs.
Available in Natural Oak, White Oak, as well as other gloss options such as Gloss White or Gloss Night Blue, the Dolce can certainly add some sweetness to your bathroom space.
Explore the Full Dolce Freestanding Vanity Collection here.
A Final Word: Your Dream Bathroom Awaits
These are some great brands to begin with, available in many sizes and sink options such as single sink vanity, double sink vanity, and more.
Additionally, these bathroom vanity sets can be improved with a matching side cabinet to help increase storage space, while maximizing your bathroom space. Whether you have a small or large bathroom, there are many bathroom vanity sizes compatible with your project.
When it comes to bathroom remodeling and renovating your bathroom, choosing the right bathroom vanity is crucial. By considering these top 5 best brands of modern bathroom vanities, you'll be well on your way to finding the perfect bathroom vanity to fit your bathroom decor and living space.
Important Note: Vanity Measurement
As a final reminder, please be sure to carefully measure your bathroom space to see what bathroom vanity size options are available for your bathroom remodeling project. Please note that vanity heights, vanity width, and vanity depth are all important sizes to consider before ordering your new vanity. Most popular brands are generally able to provide vanities in the range of 24" inches, 36" inches, 60" and 72" inches, and 84" inches, as well as numbers higher and in-between these ranges.
To see more of our top bathroom vanity brands and models, visit the Moreno Bath Brands Page.
View More Valuable Vanity Guides & Articles
Key Differences Between Floating & Freestanding Bathroom Vanities
Bathroom Vanity Styles & Materials Guide: Finding the Perfect Vanity for Your Bathroom
Is This Vanity Right for Me? Benefits of a New Bathroom Vanity
How Much Should a New Bathroom Vanity Cost? Bathroom Remodel & Renovation Budget Guide