What is a Bathroom Linen Cabinet: A side linen cabinet, also known as a side or hanging linen closet, is a shelved closet that can be added to for additional storage of household linen, such as bed linen, bedding, as well as bathroom towels and toiletries. Traditionally, a side linen cabinet can be added to your bedroom or bathroom. When added to a bathroom, it is usually installed near the vanity or sink to help provide easy access to toiletries, towels, and other commonly used bathroom items.
What do Bathroom Linen Cabinets or Linen Towers Look Like?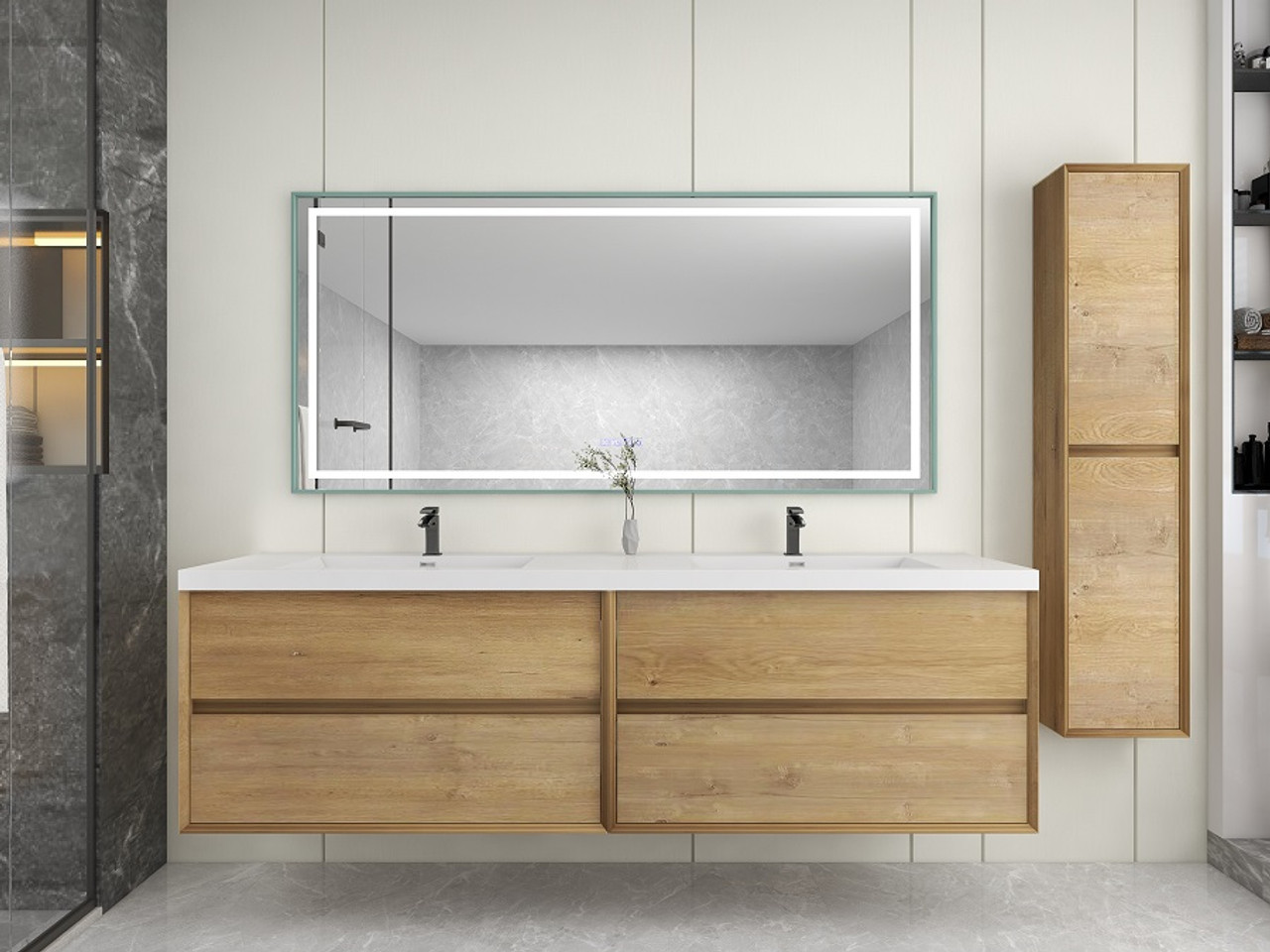 Generally, a bathroom linen cabinet can take many forms, but the ones that are categorized similarly to bathroom or bedroom linen towers are shaped long and tall. Imagine a small side cabinet hanging on the wall – that is taller than it is wide!
Are Linen Closets Necessary for Your Bathroom?
It depends on how much storage you need. An additional linen closet can be a great way to improve your bathroom's function, storage, and workflow.
Additionally, some people also favor the idea of a matching side linen cabinet or hanging closet for their bathroom because it adds an extra level of sophistication and function to the space.
For example, if you are looking for new ideas to remodel or renovate your bathroom, pairing a side linen cabinet or side linen hanging closet with a matching vanity can dramatically improve the look and feel of your bathroom space.
A side linen cabinet or a hanging linen closet is a great addition to any bathroom, offering several benefits and helping you to stay organized while keeping your space clutter-free. Before you make the decision on whether your bathroom or bedroom space is in need of a side linen cabinet, be sure to consider these top 5 key benefits of a side linen cabinet for your bathroom:
1. Out of Sight & Out of Mind: Increased Storage Space:
With a bathroom linen cabinet, you can create additional storage space in your bathroom, helping you to keep your towels, linens, and other essentials organized and easily accessible. This can be especially useful if you have a smaller bathroom with limited storage options.
Additionally, it can help you put things away and out of reach. This is a strong point to consider if you have children or toddlers around, and want to keep certain items safe and away from their reach.
2. Enhanced Organization for a Clean & Safe Bathroom
A side linen cabinet can also help you keep your bathroom organized and free of clutter. By providing a designated place for your towels and linens, you can avoid the mess and disarray that can come with storing these items without proper organization.
Thus, by enhancing your bathroom organizational space, a side linen cabinet can be a great way to declutter your bathroom, giving it a clean and lively feel.
3. Creative Bathroom Storage Solution: Vertical Design Creates Ease of Placement
This is a particularly strong benefit to consider when you have less space for extra freestanding cabinets in your bathroom.
Many side linen cabinets are shaped vertically. This vertical design of side linen cabinets makes it easier to find a good, decent place on your bathroom or bedroom wall to install this type of bathroom storage cabinet.
Unlike freestanding bathroom cabinets, which required a good chunk of your bathroom real estate space, all you need to add more storage to your bathroom with a side linen cabinet is a clean, good wall. This can help you open up possibilities for your creative bathroom storage solutions!
4. Functional Bathroom Furniture: Elevate Your Bathroom Practicality & Style
A well-designed side linen cabinet can enhance the style and functionality of your bathroom. Whether you prefer a traditional or modern look, there are many styles and designs to choose from that can complement your existing decor while providing the storage space you need.
5. Easier Bathroom Accessibility:
Having a side linen cabinet in your bathroom makes it easy to access your towels and linens whenever you require them. This can be especially helpful when you have guests staying over or need to quickly grab a fresh towel after a shower or bath.
6. Boost Your Home Property Value:
Adding a side linen cabinet to your bathroom can also increase the value of your home, making it a smart investment for the long term.
Overall, a side linen cabinet is a great investment for your bathroom, offering increased storage space, enhanced organization, stylish design, easy accessibility, and increased property value.
Linen Cabinets: A Creative Solution for Small Bathrooms?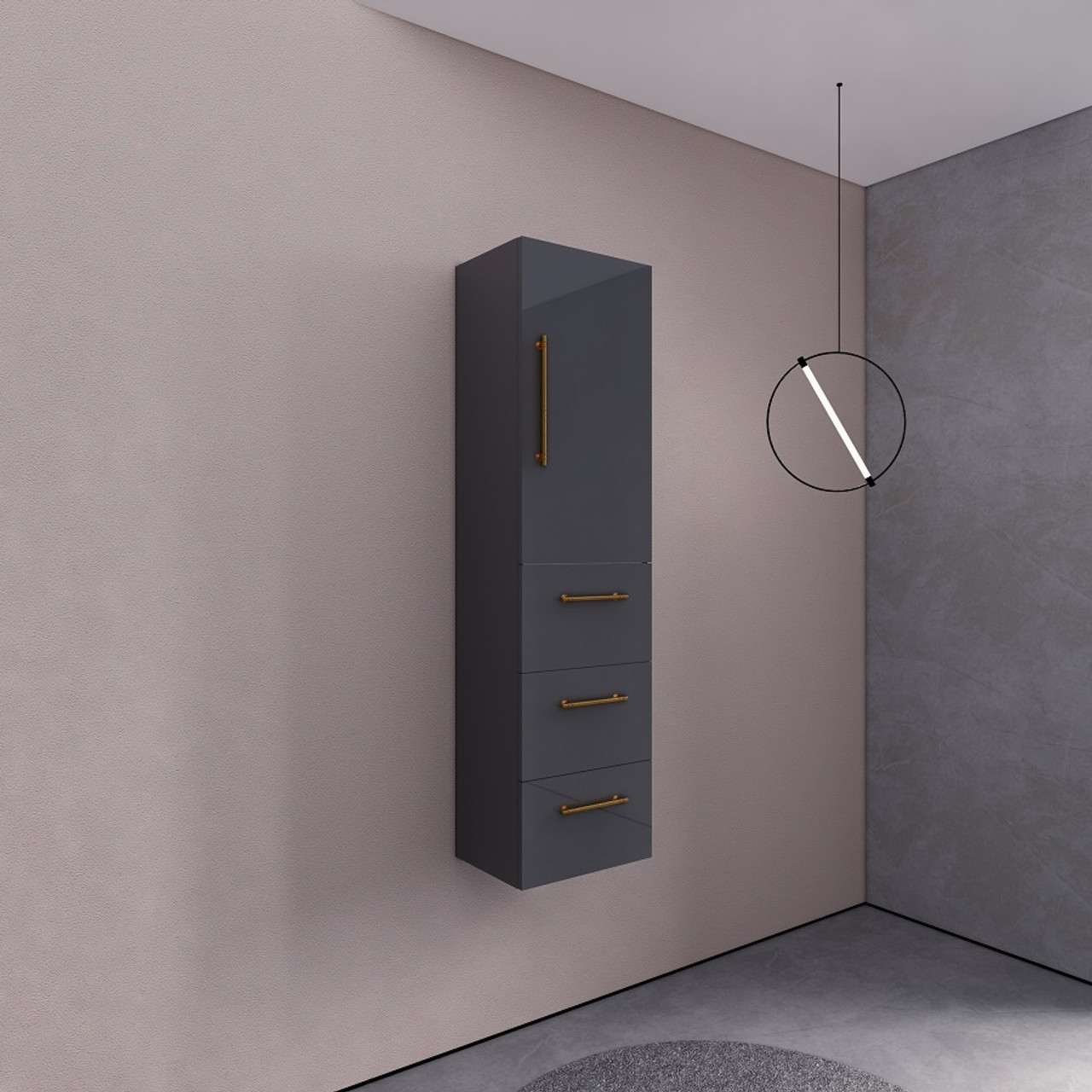 Side linen cabinets for small bathrooms can be a great idea for extra storage space!
As mentioned before, the vertical shape and the hanging or floating feature of a side linen cabinet or a linen tower for the bathroom makes it a perfect solution to give extra storage without taking up valuable bathroom floor space.
When compared to other bathroom cabinets and storage, a linen tower for your bathroom AKA a linen cabinet can definitely spark up new ideas for bathroom organization ideas due to the creative freedom you are allowed.
It is also a good idea to pair your side linen cabinet or wall-mounted linen closet with extra bathroom storage shelves as needed.
Which Linen Closet or Side Linen Cabinet Should I Get?
Side linen cabinets, bath linen closets, or bathroom linen towers, are a little-known secret for adding practical storage space for your bathroom. Although not too many people are aware of the existence of linen cabinets or linen towers, it is one of the best bathroom organization ideas around bathroom cabinets and storage.
Pro Tip: Consider a Matching Bathroom Vanity With a Linen Cabinet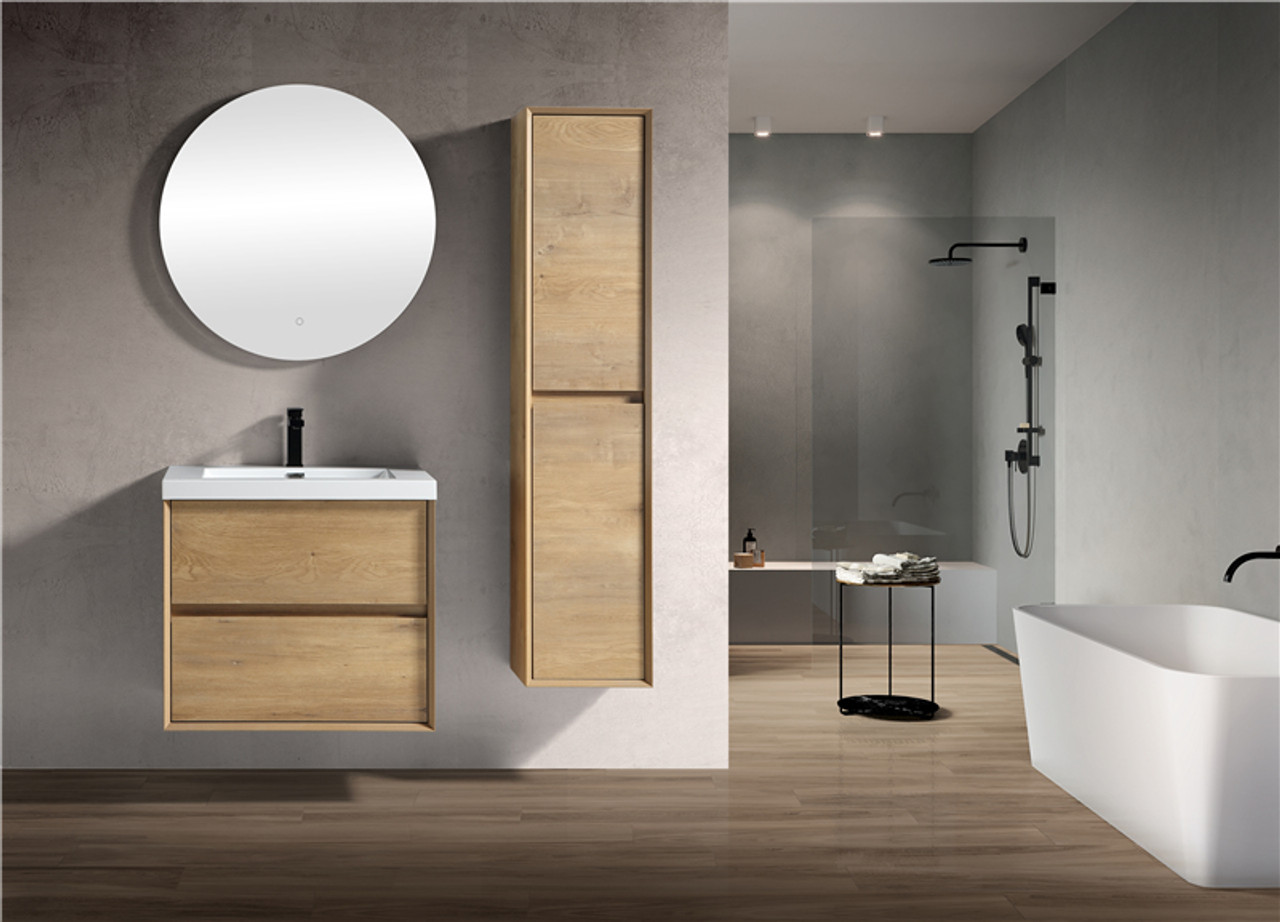 Depending on your budget, there are many gorgeous and practical bathroom linen cabinets to choose from. If this is your first time adding a new linen cabinet to your bathroom, it is recommended to go for a fully assembled linen cabinet – to help minimize labor and installation.
Additionally, if you are considering a whole bathroom renovation or overhaul, there are beautiful bathroom vanities with matching linen cabinets that do wonders paired together.
An excellent place to begin is here: check out some of our most popular bathroom linen cabinets today!
Side Linen Cabinet for Bathroom Frequently Asked Questions
Do linen cabinets come fully assembled?
Depending on where you get your linen cabinet or line tower from, it may or may not come fully assembled. Even if it does come assembled, there is still work to be done to install the side linen cabinet securely to the wall.
What is the linen cabinet height?
How tall are linen cabinets: Although linen cabinet dimensions can vary, linen towers or side linen cabinets are available in popular heights around 50," 60," 70," and 80" tall.
Where to put linen closet or cabinet?
Generally, linen closets or cabinets can be put in the bathroom or bedroom. Some people prefer to put their linen closet or linen cabinet in the bathroom due to the added functionality of storage in the bathroom space, as well as for the access to toiletries and commonly used bathroom items.
On the other hand, a bedroom linen cabinet would make a good storage place for bedsheet linens and so forth. Depending on the style of the linen cabinet and your bedroom, the bedroom can also be a good place for your linen closet.
Which linen closet to get?
The best linen closet, linen tower, or linen side cabinet to get is one that fits your budget and your bathroom or bedroom aesthetic. If you are doing a major bathroom renovation or remodeling, it is a good idea to shop for new bathroom vanities and matching side linen cabinets or linen towers to go with it.
This can be a great way to add functional storage space, organize the bathroom, and increase your home property value, all while taking your bathroom space to new heights.
How to Organize Linen Cabinet
Once you install your new linen cabinet, you may be surprised at how much more extra space you have for storage. It is always a good idea to keep things neat and tidy as early as possible. Follow these expert organizer tips below to help you organize your new linen cabinet!
Store little-used items out of sight
Use adjustable shelf dividers to keep linens and sheets separate
Keep useful products handy
Maximize shelving space
Roll washcloths to save space
Store small items in jars
Label your belongings
Keep track of your personal inventory
Where can I find some good linen cabinet ideas?
View our selection of popular and beautiful bathroom linen cabinets here.