Best Bathroom Vanity Styles & Materials 2023: Bathroom vanities are an important part of any bathroom serving as a decorative focal point, as well as functional storage space.
Additionally, having a beautiful vanity that matches your bathroom aesthetic can improve your quality of life, interior design, as well as increase the resale value of your home.
To choose the best vanity for your bathroom, it is important to consider the bathroom vanity style and material discussed in this guide so that your new vanity and bathroom will look and feel best for your home - while also increasing its value!
Bathroom Vanity Styles 2023
Before we get to materials, let's take a broad look at the different types of vanity styles available.
Bathroom vanity styles can be separated into three distinct style categories: traditional, contemporary, and modern.
Traditional Bathroom Vanity Style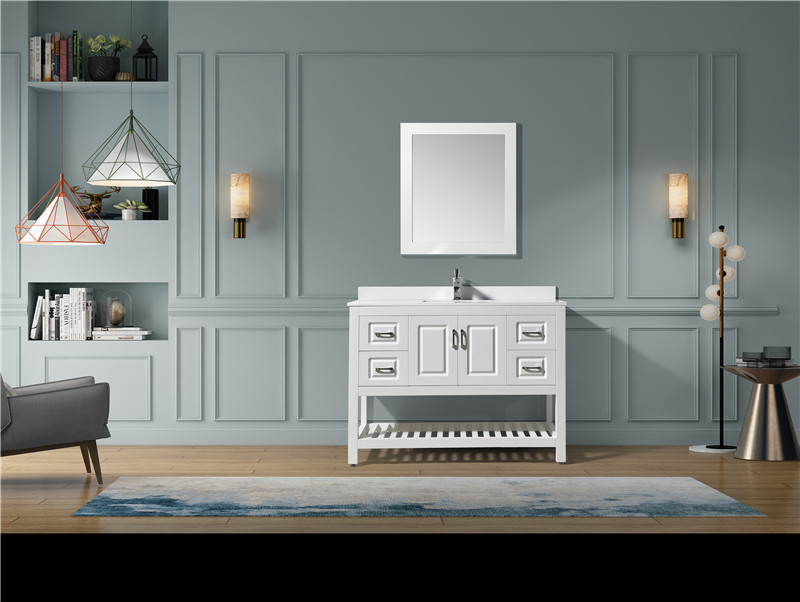 Louis Traditional Freestanding Vanity | Moreno Bath
Most traditional bathroom vanities often feature key stylistic elements such as:
Ornate details and carvings
Generally made out of wood bases
Modern & Contemporary Bathroom Vanity Style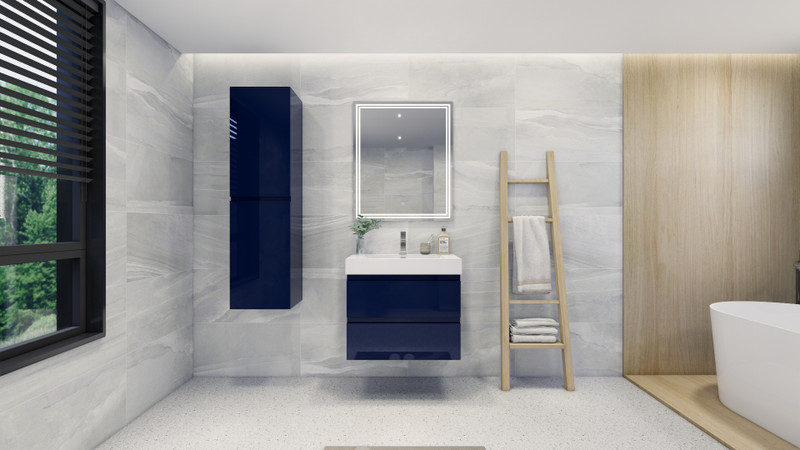 Fortune 30" Floating Wall-Mounted Modern Vanity with Side Cabinet | Moreno Bath
On the other hand, both modern and contemporary bathroom vanities fall into a category of modern bathroom design and will generally feature elements such as:
Clean lines
Focus on a minimalistic design
Combination of materials such as wood and metal
May utilize modern technology such as durable nano-material
Some examples of modern and contemporary bathroom designs can be seen in white bathroom designs featured in social media, filled with beautiful bathroom fashion aesthetics such as these.
What is the Difference Between Modern & Contemporary Bathroom Vanities?
Although there is slight confusion regarding differences between modern and contemporary bathroom vanity styles on the internet, a simple way to think about it is that "modern" refers to a modern bathroom aesthetic that looks and feels modern, but has already passed, while "contemporary" refers to a current bathroom vanity or aesthetic trends that are popular and in current fashion, as well as trends and design that is aimed towards the future.
Contemporary Bathroom Vanity Style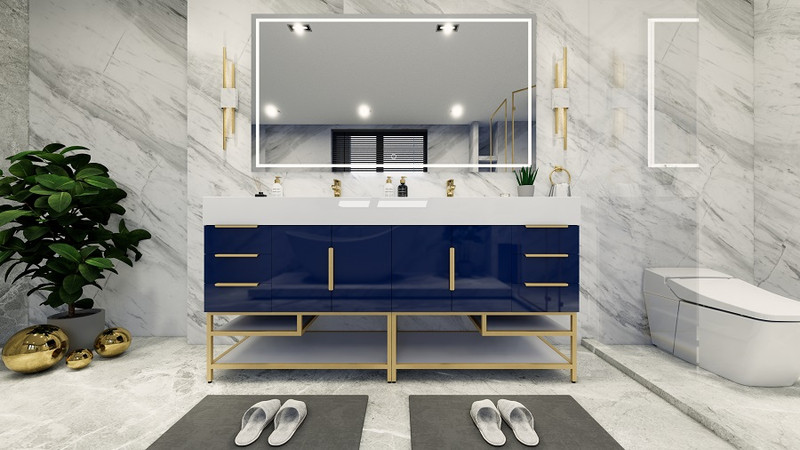 Bethany Contemporary Freestanding Bathroom Vanity | Moreno Bath
In short, "contemporary" bathroom vanities can be seen as "ultra-modern" bathroom vanities, featuring more progressive design elements such as:
Either more minimal or maximalist design and components
Incorporation of more "contemporary" or future-geared trends
For the most part, many online shops will consider modern and contemporary vanities to be the same or near-same category but a key difference to note is that contemporary vanities might be more minimal, sleek, or bold, or push the envelope in a more extreme or emotionally-invoking way in terms of design and function over a modern vanity.
Modern Vanity Style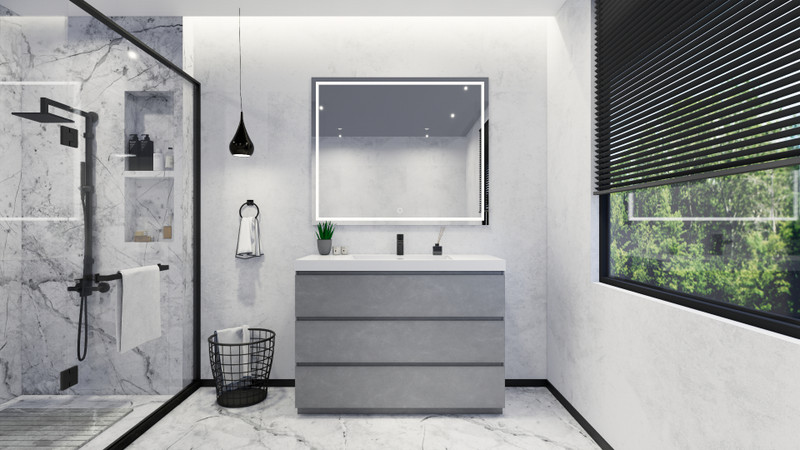 Angeles Modern Freestanding Vanity | Moreno Bath
On the other hand, modern vanities can be attributed to giving feelings of:
Sleek minimalism
Balanced with simple comfort and function
Generally, due to their quite similar feel and nature, when shopping for modern or contemporary vanities most shops would group these interchangeably together.
Bathroom Vanity Materials
Once you hone in on a specific style of aesthetic period for your vanity, it is important to consider the material of your vanity next. Some of the most popular bathroom vanity materials to choose from include:
Solid Wood Vanities
New & Popular: Trending BOW Floating Vanity Collection | Moreno Bath
Wood is a very popular choice for bathroom vanities as it is:
Durable
Versatile
Warm in tone
Additionally, wood vanities can be painted or stained to match nearly any type of bathroom decor or aesthetic - wood is a very popular material used for many traditional vanities, and even some modern or contemporary vanities due to their warm nature particularly when lighted in yellow, orange, or warm lights.
Other popular vanity materials include:
Granite
Marble
Solid Surface
Granite & Marble Vanities
In terms of countertop materials, granite or marble may be used for bathroom vanity countertops, but they are relatively high maintenance.
Solid Surface Vanities
While granite or marble vanities may offer a beautiful sheen and luxurious look, there are now solid-surface vanities that offer nearly the same bathroom vanity top look for modern designs, with the added benefit of improved durability and flexibility.
Solid surface vanities can be commonly seen in many modern and contemporary vanities. View some beautiful solid surface bathroom vanity sets, as well as solid wood vanity sets with beautiful wood veneers in a modern style here.
Other Points to Consider: Vanity Size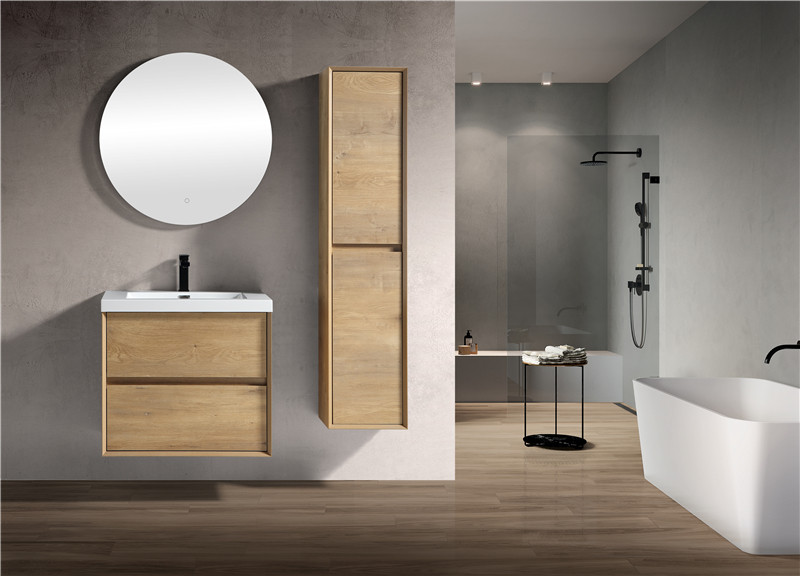 Kingdee 24" Vanity Collection | Moreno Bath
Vanity sizes often come between 24" inches to 80" inches, or even more depending on the make and brand. It's important to first measure your bathroom to see if the vanity you choose will fit comfortably in your bathroom.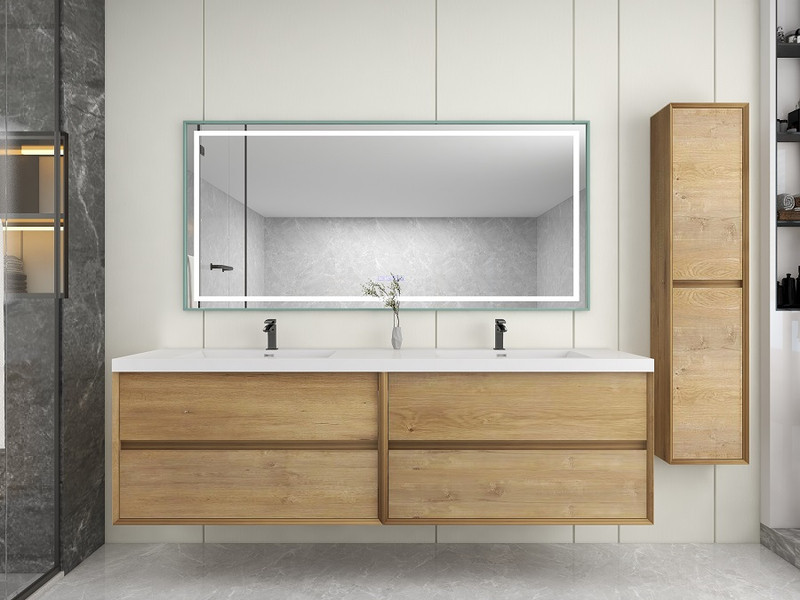 Kingdee 84" Vanity Collection | Moreno Bath
The two images above show the difference between a 24" inch vanity versus a 84" inch double vanity of the same brand make and model. Depending on how much space you have in your bathroom and how much space you are looking to fill, the options are endless!
Choosing Vanity Sink Options 2023:
Additionally, vanities do not only offer storage but also house the bathroom sink. Vanities can differ from small single-sink vanities to larger double-sink vanities.
Vanity sinks come in several different placement options such as:
Undermount Sink:
Sits below the countertop to give more of a sleek and modern look
Offers slightly less storage space
Integrated Sink:
Made of the same material as the countertop to create a smooth, consistent look
Top-Mount Sink:
Sits on top of the counter
Choosing Your Vanity Style & Material: Summary of Points to Consider
As a general guideline, it is recommended to choose your vanity in terms of:
A style that would match the bathroom design you are going for
Which should align with the general home aesthetic style and design you're trying to achieve
Another important point to consider would be the priority of the goals you are trying to accomplish (in your own personal order):
Overall aesthetic goal
Stylistic balance
Practicality and function
Comfort
Price
Benefits of a New Bathroom Vanity:
Bathroom vanities are an important part of any bathroom with benefits such as:
Functional Storage Space
Decorative Focal Point
Help Increase Home Value
Simply put, having a beautiful vanity that matches your bathroom aesthetic can bring a smile to your face, as well as increase the resale value of your home [1].
Is it Worth it to Renovate Your Bathroom in 2023?
In 2022 alone, a study reported by New York Times states that the average full bathroom remodels cost $26,574.
Although it may seem pricey at first, the article further reports that in all 50 States, an average bathroom makeover increased a home's resolve value by "more than enough to pay for the renovation."
The Key to a Highly Profitable Bathroom Renovation: Go Big or Go Home!

Although you can remodel or renovate your bathroom minimally, such as small fixes like replacing tiles, for an average of $2,000, the study reports that you would only receive a few hundred dollars back in terms of return on investment (ROI).
On the other hand, if you had spent approximately the average full bathroom remodel (somewhere around $26,000), you can make at least 100% of the cost back, with an average of 60% ROI on top of that - depending on the housing market area you reside.
Choosing Your Vanity Style & Materials: A Final Word
In summary, bathroom vanities can greatly enhance the look, function, and value of your bathroom and home. In choosing your vanity, consider the style, material, size, and features best for your needs. It is important to first take an accurate measurement of your bathroom so everything can fall neatly into place. Find your perfect vanity today!
For any more questions or help in relation to bathroom vanities, and other bathroom accessories, please feel free to email us at sales@morenobath.com or call us directly at +1 (909).536.2222.
View More Valuable Vanity Guides & Articles
Key Differences Between Floating & Freestanding Bathroom Vanities
Is This Vanity Right for Me? Benefits of a New Bathroom Vanity
How Much Should a New Bathroom Vanity Cost? Bathroom Remodel & Renovation Budget Guide
Best Modern Bathroom Vanity Brands & Trends for an Aesthetic Home