Bathroom Vanity Issues Explained: As one of the most noticeable aspects of any modern bathroom, the bathroom vanity is a critical part of any bathroom space. Perfectly installed and selected in good taste, a new vanity with sink can do wonders and transform your bathroom space into a personal sanctuary.
On the other hand, an out-of-date, incorrectly installed, or poorly selected bathroom vanity can easily lead to bathroom issues beyond the eye, such as clutter, confusion, and a lack of living harmony.
Just like any other bathroom fixture, bathroom vanities can develop issues over time. To help you save money and avoid unnecessary repairs, we've compiled a detailed list of the top 3 most common bathroom vanity problems and issues we've encountered.
Top 3 Most Common Bathroom Vanity Problems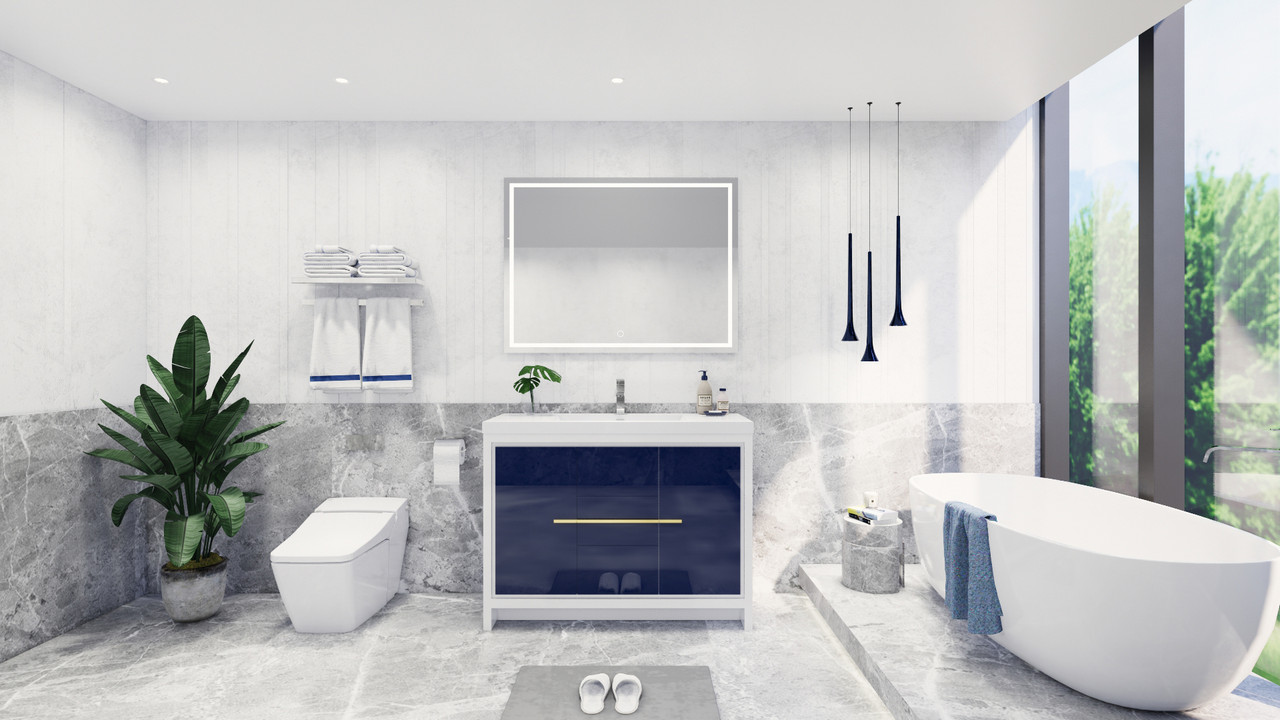 1. Current Bathroom Vanity is in Poor Condition
The bath vanity acts as the centerpiece of any bathroom. And just like any centerpiece, it requires replacement once in a while. Left on its own, an out-of-date bathroom vanity can easily lead to difficulties beyond the eye such as clutter, storage issues, and decreased functionality.
Since bath vanities can remain and continue to function for several years or even decades after installation, we may not recognize the need to replace them right away. Yet, it is always a good idea to be aware of your vanity's condition to help prevent further repairs and costs down the line.
Some signs that you may need to replace your vanity include:
Your vanity is more than several decades old
You have a vanity that is in poor condition

Vanity shows leaking or water damage
Hardware not working or closing properly
Vanity finish stained or faded
Vanity drain keeps clogging
Most Common Causes for Vanity in Poor Condition
Water damage is one of the leading causes of bathroom vanity cabinets and bathroom storage cabinets long-term damage. Always be sure that you are purchasing a vanity that is made from a high-quality wood build, and that all cracks, seals, and edges are adequately sealed post-installation.
Over time, prolonged daily use of your vanity can lead to wear and tear and other common vanity issues such as:
Water Damage
Vanity Hardware in Poor Condition
Stained or Faded Vanity Finish
Clogged Bath Vanity Drain
What is Water Damage & How Does it Relate to My Vanity?
Water damage is a common issue that affects many vanities and bathrooms in general. It is generally caused by the accumulation of water around the sink and faucet areas. If the vanity wood cabinet base is not properly sealed, water can slowly leak and penetrate into the wood fibers of the vanity. Once the water seeps into spaces in the wood, damage to the wood can occur, such as wood rot, wood expansion, and so forth.
How to Prevent Bathroom Vanity Water Damage
To prevent water damage to your bathroom vanity cabinet, be sure to wipe off any visible standing water and address any leaks you find immediately. It is always a good idea to regularly inspect your plumbing connections hidden underneath the vanity sink and bathroom area to see if there are any damages or possible issues and to replace them as needed.
Average USA Plumbing Costs:
According to Home Advisor, the average cost of a plumbing repair is $200.
The same study states that most plumbers charge an hourly rate of $45 – $100.
Most plumbing jobs take between 2 – 4 hours and can be charged per hour or per project.
How to Prevent or Fix Bathroom Vanity Stains or Faded Finish
With enough time and repetition, constant exposure to wind and water can irreversibly fade and damage the wood components of a vanity. If this is the case, it may be time for a new vanity.
Additionally, bathroom vanities can be susceptible to stains and fading due to constant exposure to water and cleaning products. To restore the original finish of your vanity, try to clean the surface with a mild cleaning solution and a soft cloth. If the stain persists, use a stronger cleaning product or consider repainting the vanity as needed.
Trending Bathroom Vanity Paint Finishes
Did you know that painted vanities are currently trending? Today, typical vanities you can find in a modern bathroom can be painted in popular colors such as:
Gray
Cream
Light Gray-Blue
How to Prevent or Fix Loose or Broken Bath Vanity Hardware
Loose or broken vanity hardware is also another common problem that can affect your bathroom's harmony. Some problems you may encounter related to your vanity hardware include:
Vanity cabinet doors that won't close
Squeaky or high-noise drawers or doors
Broken or chipped hardware
Be sure to check the screws, knobs, and handles regularly to ensure they're tightly secured. If any hardware is broken, replace it with a new one to avoid further damage.
Vanity Tip: Benefits of European Soft-Closing Hardware
The Fortune Wall-Mounted Floating Bathroom Vanity series comes in many colors ranging from light to dark oak, high gloss white, black and more. In addition to a wide variety of styles, all Fortune floating vanities are equipped with state-of-the-art soft-closing European integrated hardware.
It is recommended to go for bathroom vanities or vanity cabinets that have strong and durable European-soft-closing hardware. This type of soft-closing hardware for drawers and cabinet doors helps muffle noise, avoid creaking, and helps give a more solid feel to the vanity as a whole.
Choosing durable and dependable hardware for your vanity can lead to a reduced need for future repairs down the line. Check out some modern vanities equipped with European-soft-closing hardware here.
How to Prevent or Fix Clogged Bath Vanity Drain
A clogged drain can cause water to accumulate around the sink, leading to water damage, frustration, and other bathroom issues.
To fix a clogged vanity drain, simply use a plunger or a drain cleaning solution to clear the clog. If the problem persists, it is recommended to contact a plumber to inspect your plumbing system.
2. Having an Outdated Bathroom Vanity
The Sage 84" Double Sink Wall Mounted Modern Vanity in White Oak is a luxurious and elegant addition to your bathroom. The Sage features 4 soft-closing European-designed integrated drawers and finishes in dark to light oak.
Additionally, if you possess an ancient vanity (not the good-wanted vintage kind), you may find that the materials or designs associated with your vanity are outdated and may no longer fit the modern bathroom feel you're looking for.
New Vanity Materials, Trends, & Build: What Changed & Hasn't
Decades ago, bathroom countertops were made from popularly used materials such as cultured marble, and trends like drop-in sinks can be found among many vanities. In this previous generation, vanities were often made from light wood such as blond oak, white oak, light maple, and so forth. Yet today, some of these materials have changed, while some have returned to popular culture with renewed interest.
Light & White Oak Vanities: A Growing Trend
For example, there is a new, growing trend for light oak bathroom vanities, such as white oak, England oak, and more. You can find some of the most popular light oak and England oak vanities here.
Additionally, there are changes in modern vanities today, such as the prevalence of under-mount sinks.
What is an Undermount Sink: Undermount sinks are attached to the bathroom countertop from underneath. Therefore, the edge of the sink does not appear visually over the vanity edge.
Advantage of an Undermount Sink: This is a key benefit for most homeowners, as a bathroom vanity with an under-mount sink is typically easier to clean and maintain, and looks more well-put together.
A classic example of a new, modern undermount double sink for vanity made in reinforced acrylic white – paired with the newly stocked Elsa Floating Bathroom Vanity in Natural Oak.
If you have a bathroom vanity and sink that is several years old, or have passed by decades, it may be time for a new one.
3. Not Enough Bathroom Storage Space
The Dolce 60" Freestanding Bathroom Vanity in Natural Oak offers plenty of storage space for your bathroom essentials. If you are looking to prioritize hidden bathroom storage space, it is recommended to go for freestanding vanities as these have more storage space underneath them.
The vanity is where we store towels, shampoo, conditioner, and other bathroom items, such as toiletries. When there is a lack of storage, the bathroom can lead to clutter and other unforeseeable hazards.
This can be easily fixed by replacing your vanity with a vanity with more storage options – and if you don't have a vanity, perhaps installing a new one can help you drastically improve your bathroom space for the better. If you do choose to replace or install a new vanity, be sure to carefully measure the space for your new vanity, as well as check out other important tips and recommendations to consider before investing in a new vanity.
Floating vs. Freestanding Vanity: a Matter of Space
On the other hand, one space advantage of floating or wall-mounted vanities is that there is more room underneath the vanity. Although this means less "hidden" storage space overall, this added "floating" space underneath your vanity can help declutter the look and feel of your bathroom with its added white space.
Some vanities such as floating or wall-mounted vanities may require more work to install, or possibly require the help of professionals or contractors.
Other vanities, such as freestanding vanities, may be easier and faster to install, requiring less professional help. For more information on the key differences between floating and freestanding vanities, check out our guide here.
Maximizing Your Vanity's Value
Modern Nanomaterials: Anti-Bacterial & Scratch Resistant
The newly released Max Collection offers durable, long-lasting floating bathroom vanities that are naturally resistant to bacteria and scratches. Engineered from advanced nanomaterials, the Max Vanity Collection is one of many modern vanities that offer the added benefit of ease and convenience in addition to its bold and stunning features.
Modern nanomaterials, built using advanced nanotechnology, can now combine elements of different types of engineered wood and natural wood to help create a long-lasting wooden vanity that is highly resistant to water damage, as well as bacteria and scratches.
Bathroom vanities built from nanotech material can offer homeowners these benefits, such as improved durability beyond regular MDF vanities, closer to that of solid wood or plywood vanities, at a fraction of the cost.
If budget is one of your primary concerns in purchasing a new vanity, rest assured that there are vanity supplies available that can help connect you to the best modern vanity models and builds. Because these suppliers are directly connected to major manufacturers, you can expect improved prices compared to big-box home improvement stores such as Home Depot, Wayfair, Lowes, or Overstock.
Regular maintenance and timely repairs can help prevent most bathroom vanity problems. If you're experiencing any of the issues mentioned above, take action promptly to avoid further damage. With proper care, your bathroom vanity can last for years, adding value and functionality to your home.
Why Choose a New Vanity For Your Home?
If you are in search of a new vanity to last you a lifetime of dependability and beauty, know that there are many high-quality bathroom vanities with sink or vanity sink sets that are available. Some of these modern and durable vanities can be found on sale or clearance here - to help you choose a vanity with a great balance of long-lasting, high-quality durability, with practical affordability you can be happy with.
Furthermore, a bathroom remodel or renovation, or even the simple act of replacing your bathroom vanity, can easily lead to a major increase in your home's value and quality of life.
Read More About The Benefits of a New Bathroom Vanity
Tips on How to Buy a Bathroom Vanity
The Elsa Freestanding Vanity Collection is one of the most long-time popular styles of vanities available. Available in gloss white, gloss gray or gloss black, as well as new light oak finishes, the Elsa is a relatively easy freestanding vanity that comes pre-assembled for easy installation.
Is a Custom Bathroom Vanity Worth It?
Often, you don't need to spend thousands of dollars on a custom-made vanity. All you need to do is carefully and accurately measure the length, width, and height of your vanity space. Once you have the exact measurements, you can browse the internet to shop for available vanity sizes compatible with your measurements. Of course, if you are not concerned with your budget, and are looking for the best of the best, a custom-made vanity may appeal to the direction you're going for.
Long-lasting vanity fixtures that last a lifetime, and appeal to the eye, can be found easily with the help of the internet. Some of our best recommendations when selecting your ideal vanity include:
Buy a Vanity with Sink Set or Kit
Today, vanity kits or sets – which include a vanity cabinet paired with a sink and or faucet – sometimes ready-made – are available widely for sale online and in-store at big-box home improvement shops such as Home Depot, Lowes, or Wayfair. There are even wooden vanities you can purchase from Amazon.
We suggest purchasing a vanity set or kit so that you do not have to worry about finding the right vanity sink or countertop to match your vanity cabinet. These vanity kits or sets usually come with a vanity cabinet and sink pair that matches beautifully, and are typically much easier to finish and install, as opposed to building your own DIY vanity or ordering a custom-made vanity.
Note that at times, these vanity sets or vanity kits may come with an inexpensive faucet pre-installed. These faucets may not be the best quality but can be easily replaced with a higher quality faucet that doesn't cost much compared to the vanity.
The most important things to look out for in choosing your ideal vanity set are the shape, color, and overall form of the vanity and how it adds to your bathroom space.
It is also recommended to purchase vanities or vanity sets directly from nationwide online vanity suppliers to get the most out of your money. These suppliers often have a closer and more direct relationship with vanity manufacturers, and can often provide the same quality vanity, shipping, and service at a lower cost than big-box stores such as Home Depot, Ikea, Costco, Lowes, or Wayfair.
Finding Your Perfect Vanity
The Fortune 60" Wall-Mounted Floating Vanity is a wonderful and subtle addition to a bathroom rooted in grayscale, modern minimalism, and subtle tones, as well as for some Japanese, Swedish, or Japandi bathroom interiors.
What features do you search for in a bathroom vanity? Are you happy with the current bathroom vanity that you have? At Moreno Bath, we have helped supply thousands of vanities to happy and satisfied homeowners and home builders nationwide.
As a reputable, leading nationwide supplier of bathroom vanities with sinks, we offer select modern vanities with direct factory pricing to help improve the functionality and feel of your bathroom. View our extensive vanity collection here.
View More Valuable Vanity Guides & Articles
Key Differences Between Floating & Freestanding Bathroom Vanities
How Much Should a New Bathroom Vanity Cost? Vanity Purchase Guide
Bathroom Vanity Styles & Materials Guide: Finding the Perfect Vanity for Your Bathroom
Best Modern Bathroom Vanity Brands for Bath Storage Space
Finding Your Ideal Vanity: 2023 Bathroom Vanity Benefits & Buyer's Guide