Is a Used Bathroom Vanity Worth It, 2023: With today's rising costs of home renovation, a used vanity may seem tempting.
But is saving money on a secondhand vanity worth it?
Here are some key considerations:
1. Potential Vanity Savings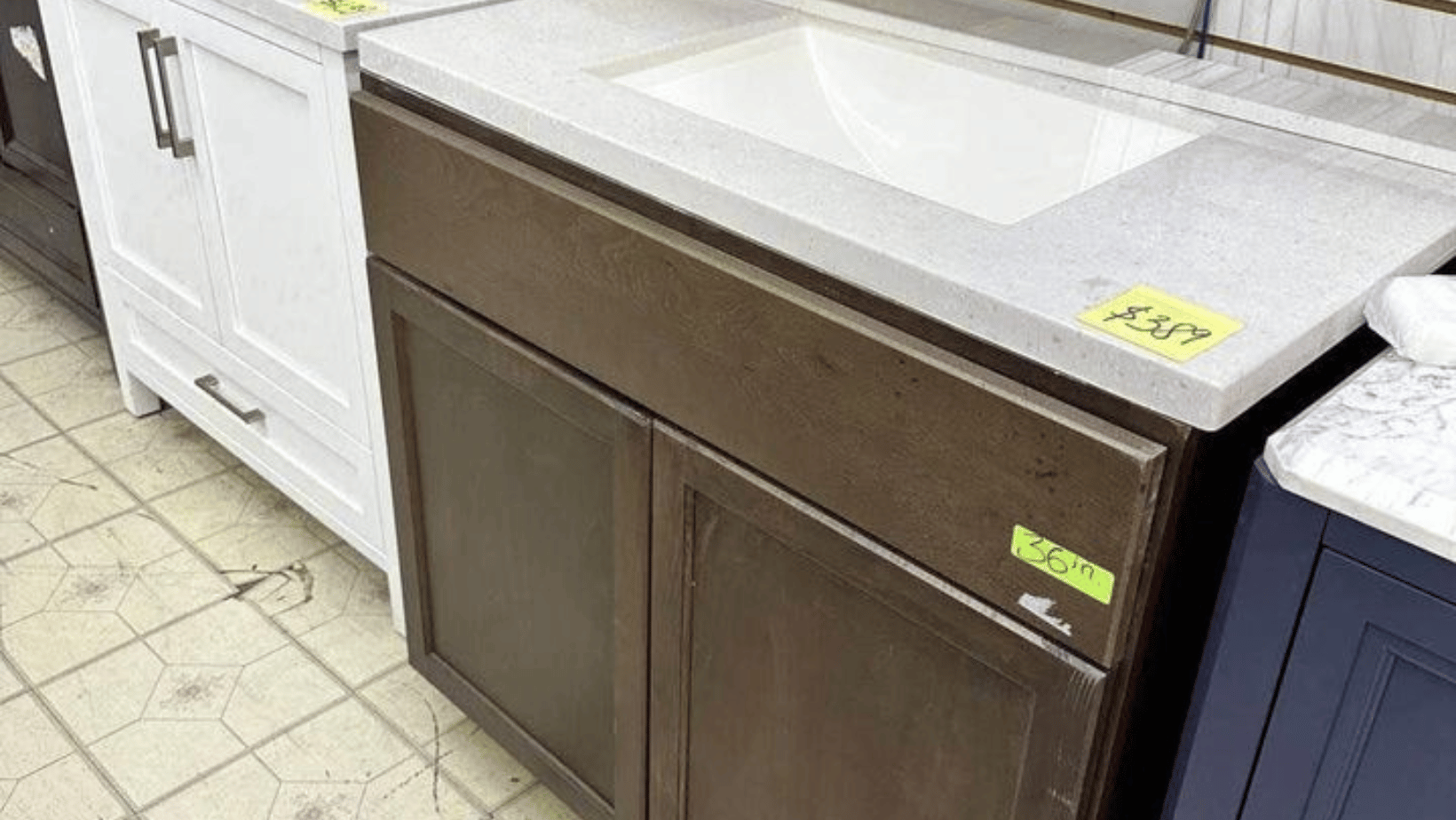 Used bathroom vanities can offer hundreds of dollars in potential savings compared to newer vanities – albeit with some caveats.
One of the main attractions of a used vanity is the potential savings.
Used vanities can often be found at 50%+ off retail pricing.
Compared to brand-new counterparts, used vanities can be significantly cheaper, making them an attractive option for homeowners on a budget.
Marketplace finds under $200 are common for smaller vanities, most likely under 30," 24," or below – but typically for these prices, careful inspection of the used vanity should be considered.
Although these savings may seem significant right off the bat, there may be more key factors to consider, such as the hidden costs of repair and restoration.
2. Used Vanity Hidden Costs: Repair & Restoration Estimates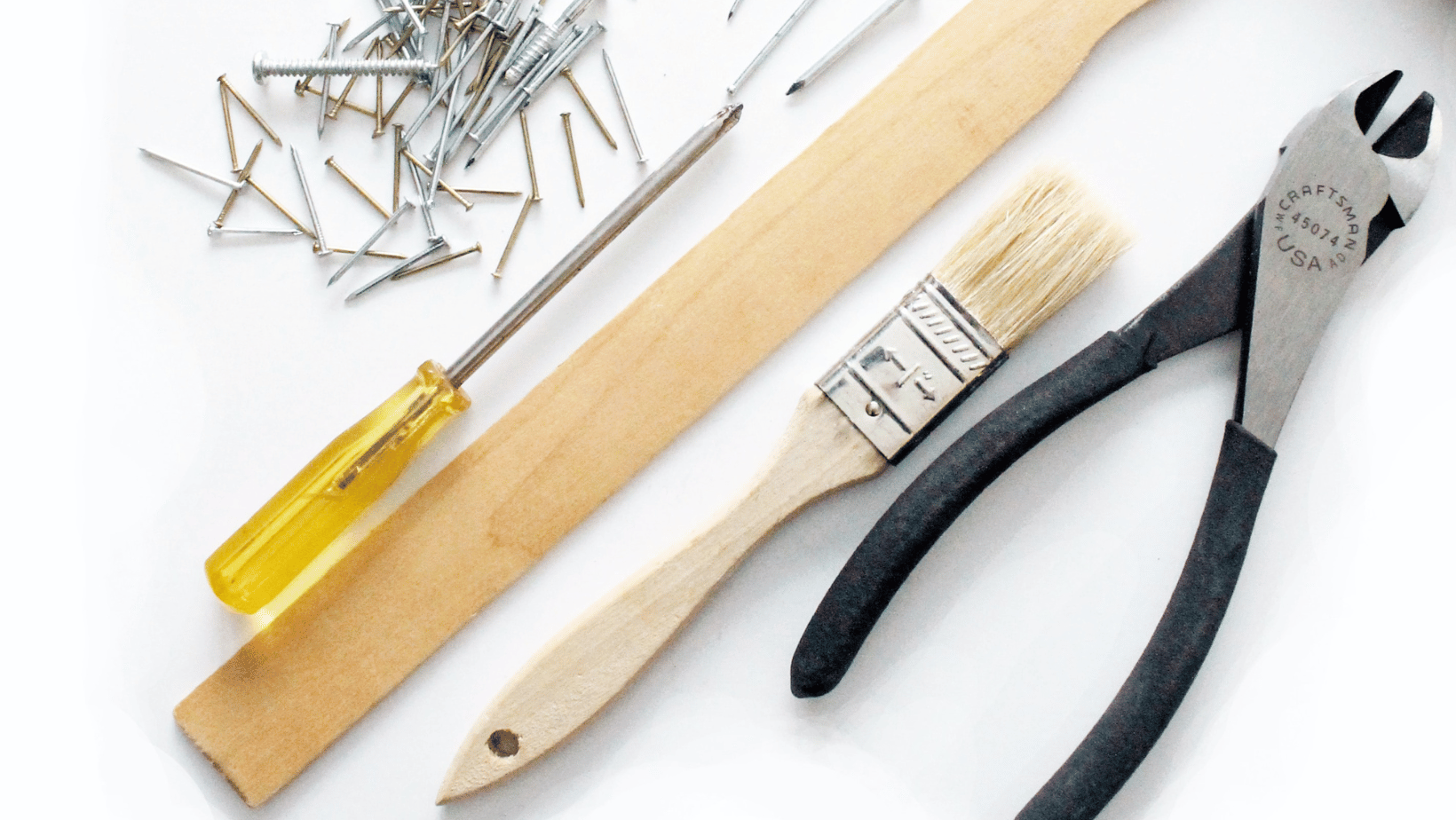 While cheaper upfront, used vanities may need repairs, refinishing, or replacing of sink and hardware.
The good news?
Having proficient DIY skills yourself can help, and offset the cost of repairs.
Used Vanity Restoration & Repair Basic Estimates 2023
Hidden or possible costs associated with restoring or fixing a used bathroom vanity can include:
1. Refinishing Used Vanity Surface:
DIY: $20 – $100
Professional: $200 – $500
Material costs include sandpaper, paint or stain, and sealants, and the range of the cost depends on the size of the vanity and the finishes chosen.
2. Repairing Used Vanity Damage:
Minor Repairs (Small cracks or stains):
DIY: $20 – $50
Professional: $100 – $200
Major Repairs (Water damage or large cracks):
DIY: $50 – $150
Professional: $200 – $500+
3. Used Vanity Hardware Replacement: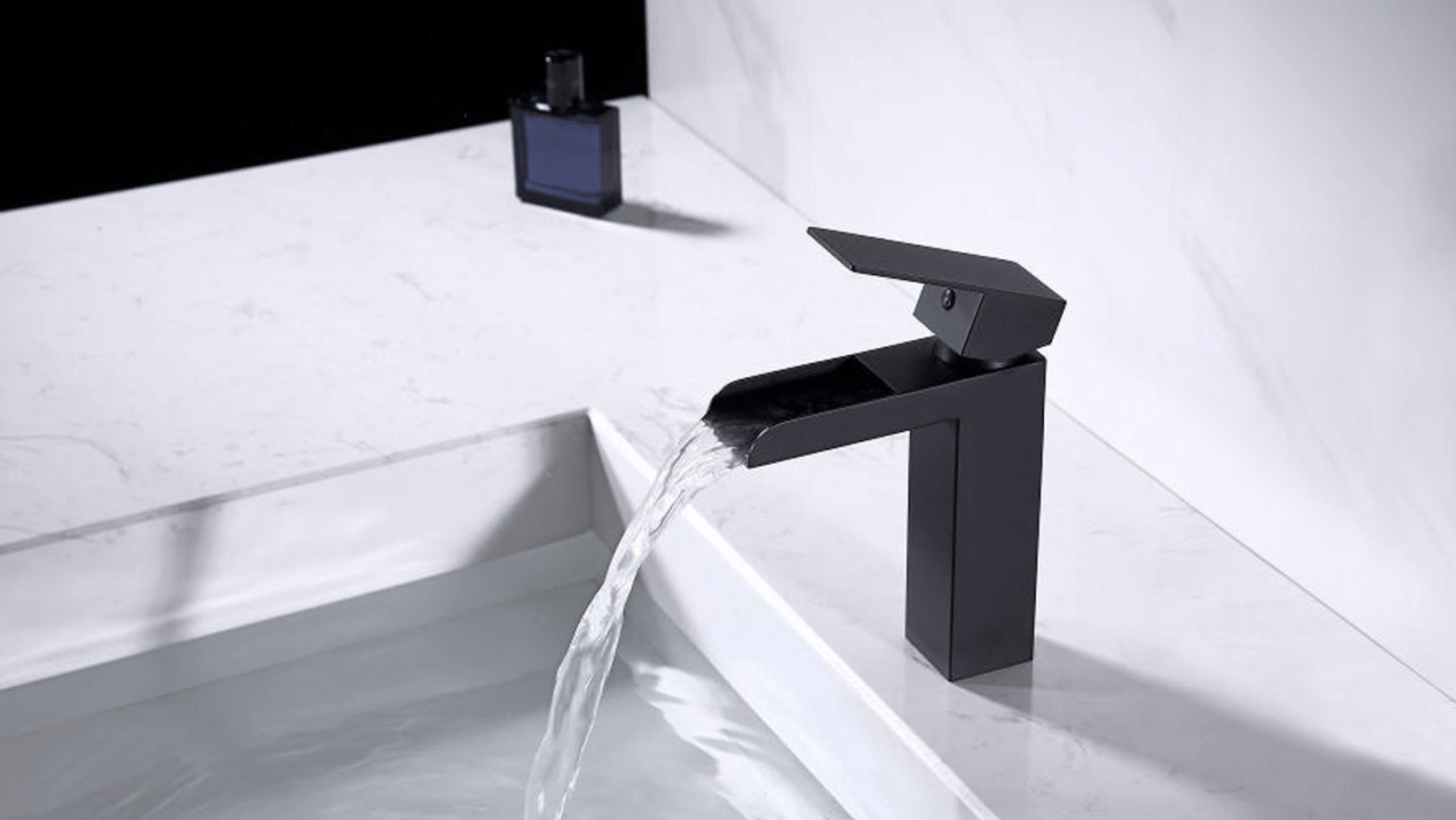 Nelli Single Hole Modern Waterfall Faucet in Matte Black | Moreno Bath
DIY: $20 – $100
Professional: Hardware costs + labor, which could range from $50 – $200.
This range covers replacing handles, knobs, and possibly hinges.
4. Sink or Countertop Replacement:
DIY: $50 – $500
Professional: $200 – $1,000+
The range depends on the material of the countertop and the type of sink.
This includes the cost of the sink or countertop plus installation.
5. Plumbing Adjustments:
DIY: $20 – $100
Professional: $100 – $500
For minor adjustments or replacements of pipes and faucets.
Cost depends heavily on the complexity of the work.
Used Bathroom Vanity Restoration: Hidden Costs Summary
If you're a DIY enthusiast with some basic skills and tools, you could potentially restore a used bathroom vanity for as low as $130 to $850+.
However, if you're relying on professionals for all aspects of the restoration, the cost could range from $650 to $2,700 or more.
Please note that these are rough estimates. Prices can vary based on your location, the specific condition of the vanity, and the quality of materials and finishes you choose.
3. Inspecting a Used Vanity for Prior Damage, Wear & Tear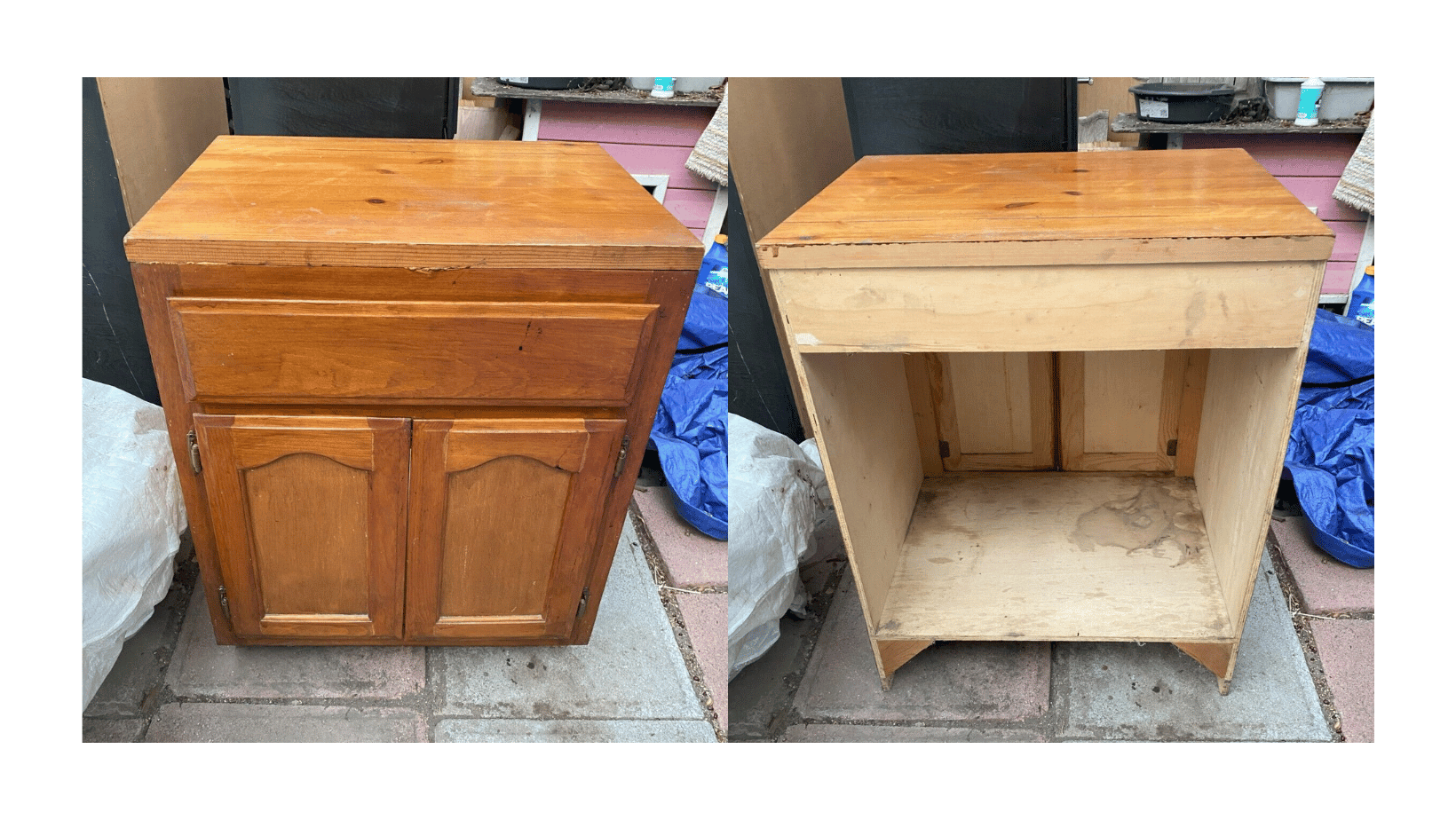 Although this used bathroom vanity cabinet does not show any signs of water damage on its exterior, the inside of the used vanity cabinet tell another story.
There are extensive darkening spots of visible water damage on the base of the vanity cabinet floor.
Although it's good to know estimates, you'll probably have to inspect a secondhand bathroom vanity yourself in person to see if it's worth the investment.
Once you have a specific used bathroom vanity you're interested in, be sure to check for vital signs of prior damage, wear and tear to see if the fixes will be manageable or worth it.
Signs a Used Bathroom Vanity May Not be Worth It:
Before committing to a used vanity, be sure to examine it closely for damage, such as:
Water damage
Cracks
Stains
Other signs of wear and tear
Out of these most commonly found issues, vanity stains are the easiest and often the cheapest to fix.
On the other hand, water damage and cracks in the used vanity can range from moderate to hard fixes, depending on the context.
Here's a difficulty and cost breakdown of each commonly found used vanity issue:
Used Vanity Damage or Wear: Repair Costs Breakdown, Estimate & DIY Difficulty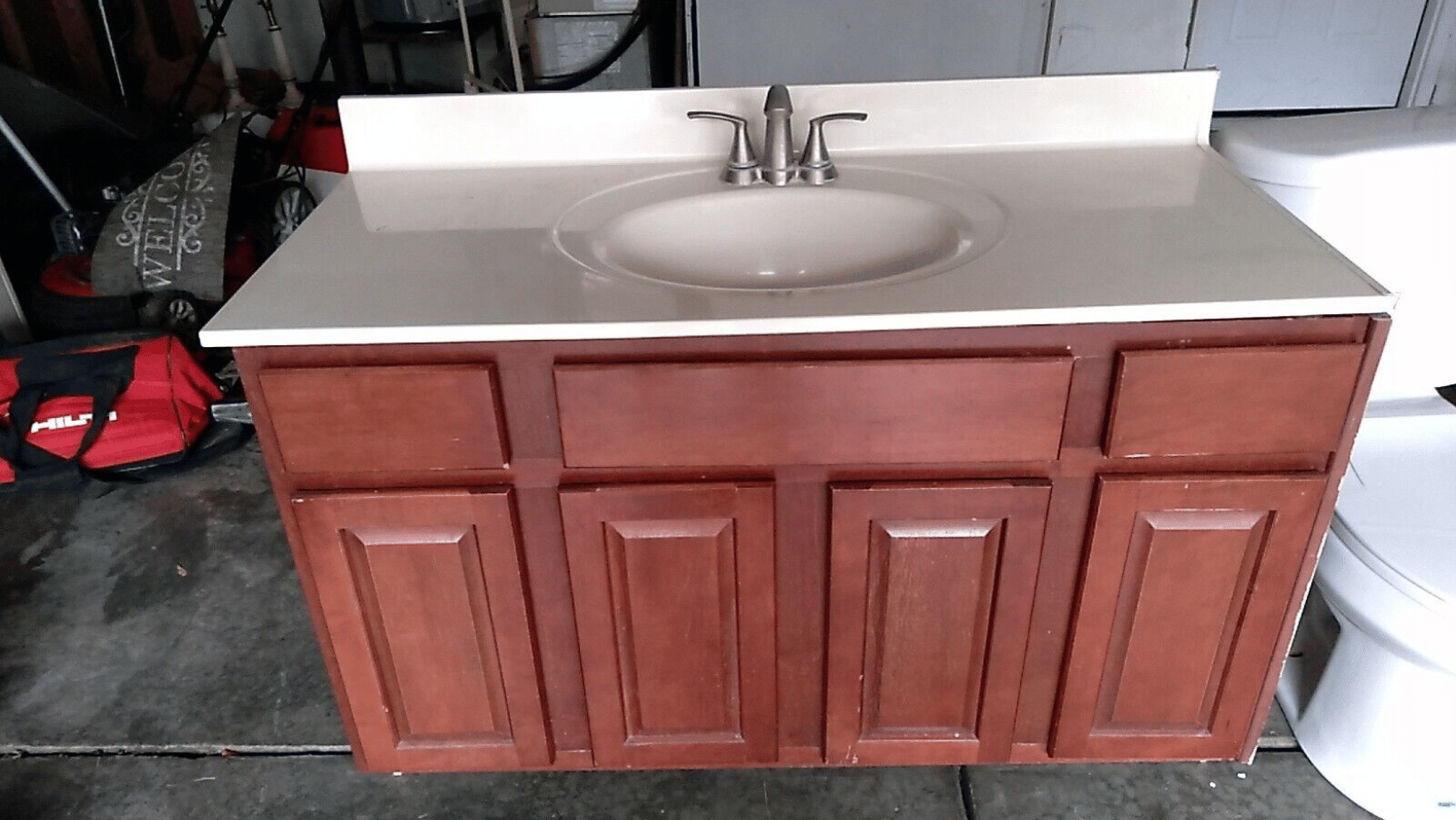 Vanity Stains: Easy
Most vanity stains can be sanded out, and the surface refinished, especially if the vanity is made of solid wood.
Vanity Stains Repair Costs: ($20 – $100)
For DIY sanding and refinishing, costs can start at $20 for sandpaper and finishing materials.
If a professional is hired, costs can rise to around $100, depending on the size of the stain and the type of finish required.
Vanity Cracks: Easy to Moderate
Small wooden vanity cracks can be filled with wood filler or epoxy.
Larger vanity cracks may require more extensive carpentry or sectional replacements.
Vanity Cracks Repair Costs: ($20 – $200)
Costs can be as low as $20 for DIY solutions using wood fillers or epoxy.
If professional carpentry is needed, prices can go up to $200 or more, depending on the extent of the damage.
Water Damage: Moderate to Hard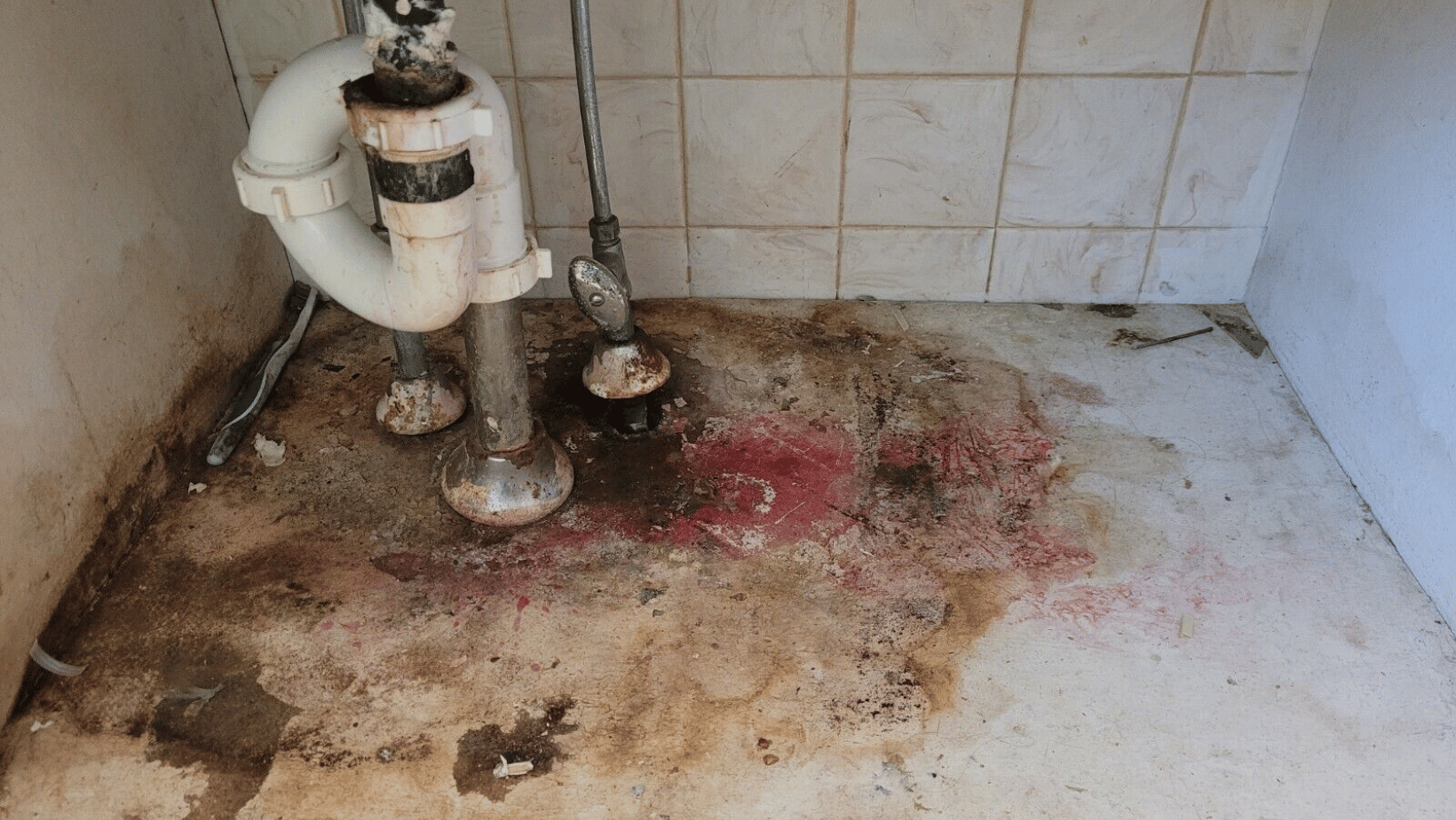 Minor water damage can often be treated, but extensive damage, especially to the vanity's wood core, can be hard and expensive to fix.
Vanity Water Damage Repair Costs: Variable ($50 – $500+)
For minor repairs, costs can be as low as $50-$150 for sanding and repainting/sealing.
For more extensive damage requiring board replacement or professional restoration, costs can climb into the hundreds or even over a thousand dollars.
4. Style and Fit: Working with a Limited Selection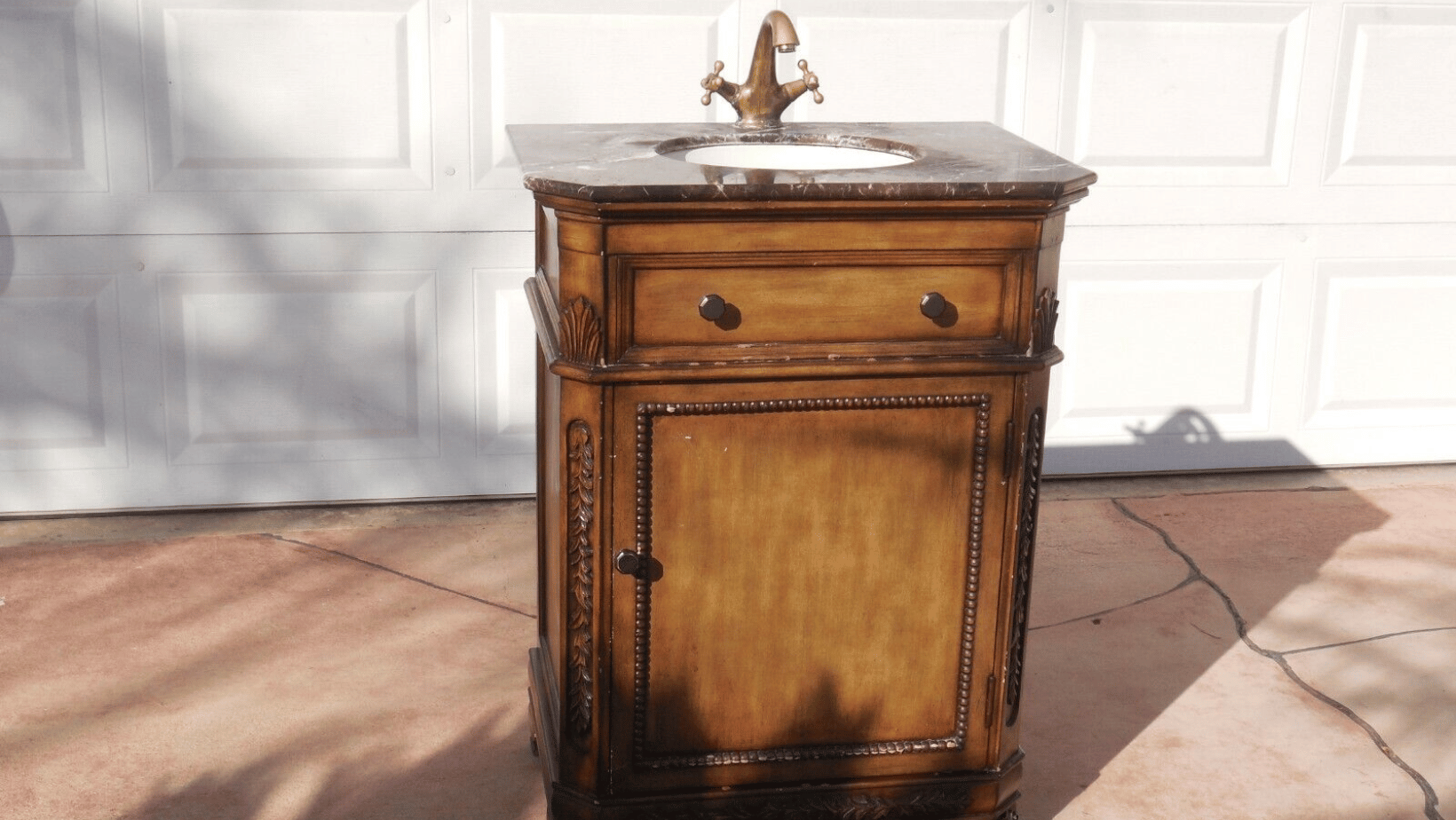 A used vanity can offer a distinct, vintage, or rustic look, adding charm and character to your bathroom that new, off-the-shelf items might not provide.
But finding this perfect, used vanity, can be an ordeal on its own, due to the limited selection of available used bathroom vanities in reusable or restorable form.
Additionally, many older used vanities may not fit your modern bathroom's size and plumbing standards.
This can lead to potential modification expenses, increasing the cost of your used vanity.
With such a limited and unpredictable selection, you may have a harder time finding the right vanity with the right size for your bathroom.
Due to these factors, some people may instead opt for a new modern bathroom vanity out of sheer convenience.
5. Hygiene Factors: Deep Clean Needed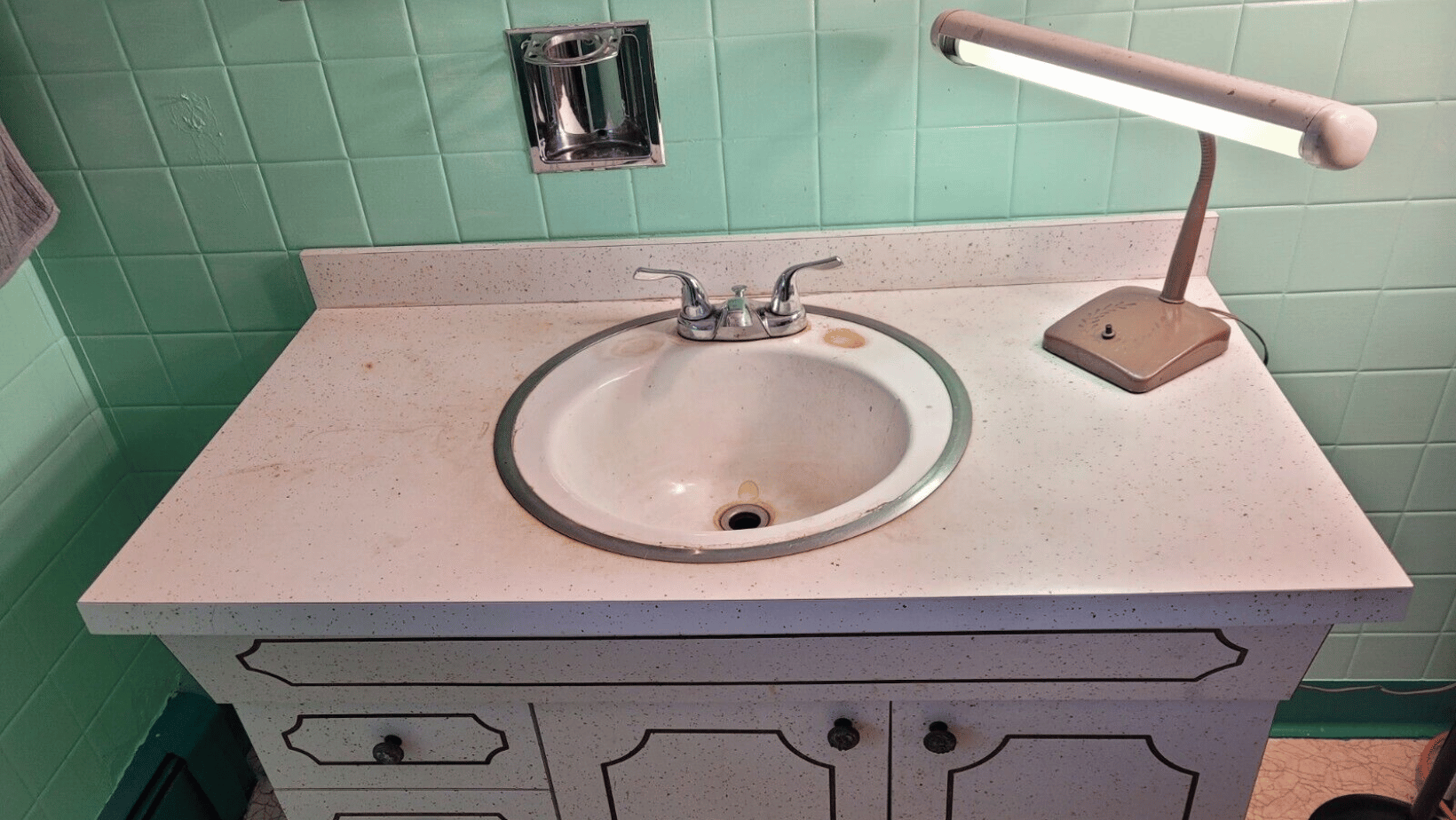 Bathroom vanities are typically high-use areas for personal hygiene.
Therefore, it's not a stretch to assume that there may be some health concerns over sanitation and past usage of a used bathroom vanity – particularly for one with an unknown history.
This is an important factor to consider – and if you decide on that used vanity, be sure to be thorough in your cleaning to minimize any unwanted health concerns that may come with it.
6. No Warranty – Accepting all Risk of Purchase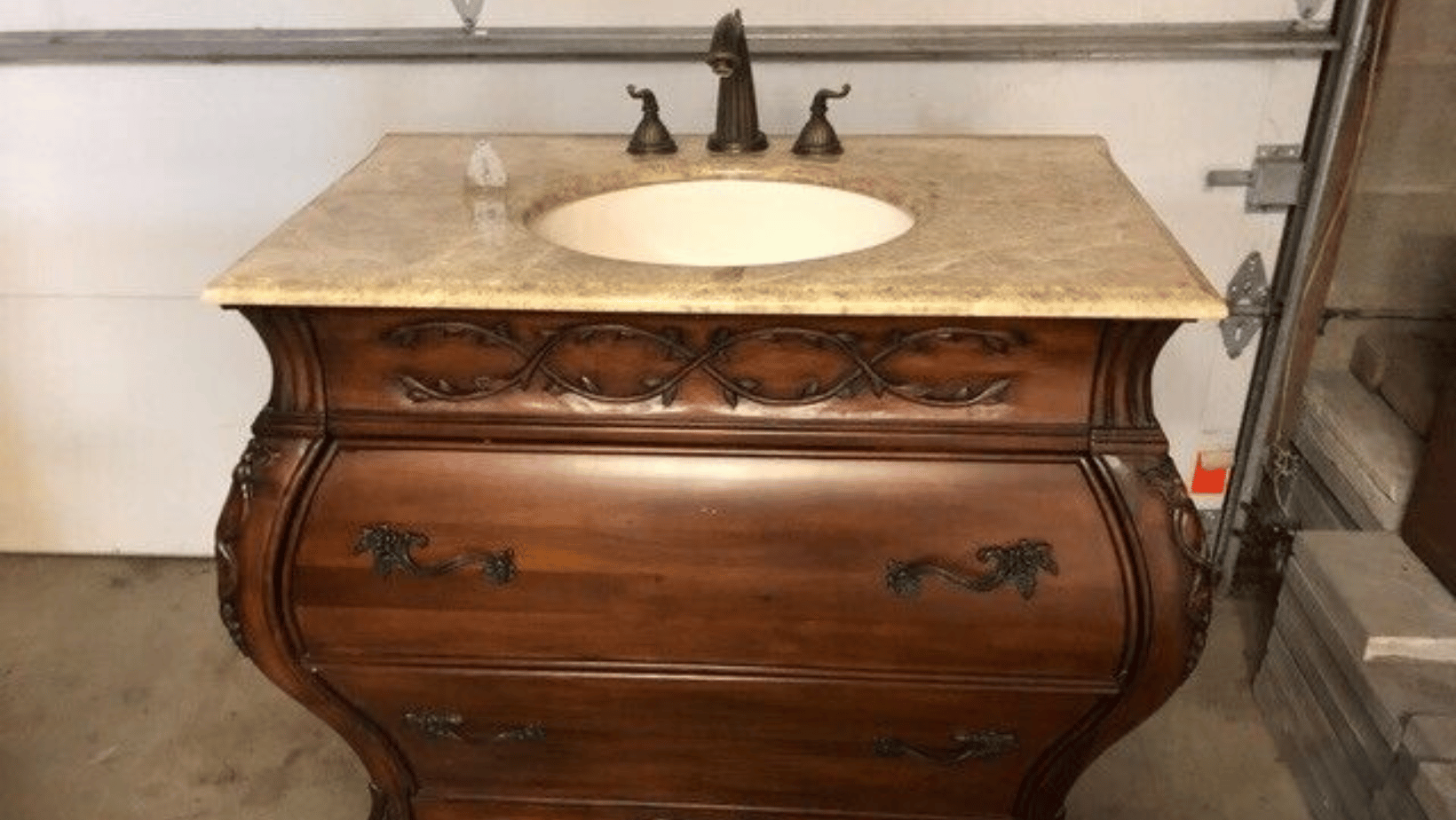 Unlike new vanities, used vanities have no return policy or warranty coverage.
You simply assume full risk.
Although in some cases you can save a few hundred dollars with a used vanity, having no warranty or buyer's protection with it does come with major risks involved.
For example, what if the used vanity (with no warranty) gets damaged in transit or pickup?
Before ordering or purchasing your used vanity, be sure to discuss the terms of purchase carefully with the seller, and to consider all your options before making the final decision.
7. Modern Features: Vintage Charm vs. Modern Comforts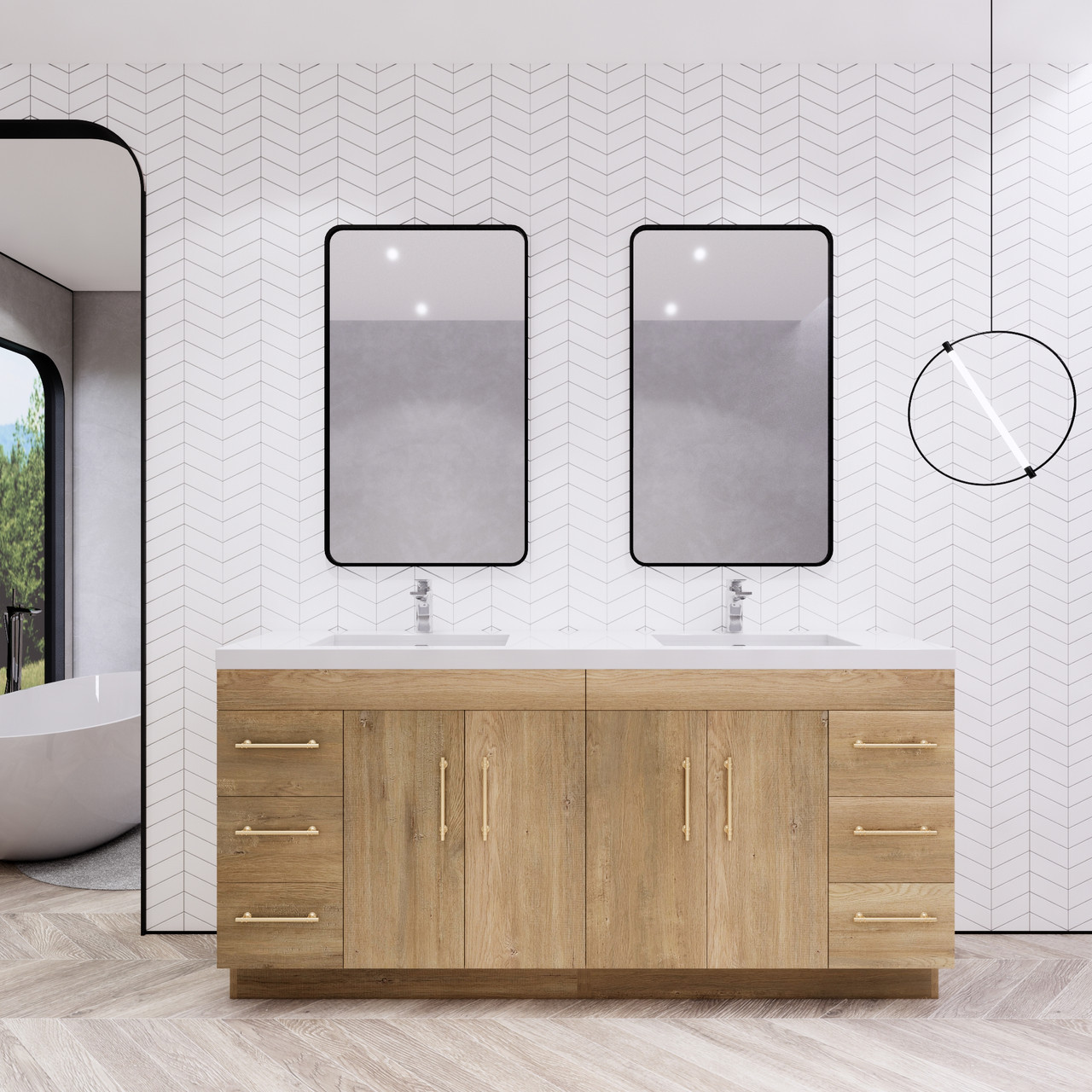 The Elsa 72" Freestanding Vanity with Reinforced Acrylic Double Sink | Moreno Bath Modern Farmhouse Vanities
Now that we've fully considered the true pros, cons, risks, and costs associated with a used bathroom vanity, let's take a look at the other side: new vanities.
New, modern, contemporary vanities often come with sleek, luxurious features such as soft-close doors, integrated power outlets, and innovative storage solutions.
You may also find yourself falling head over heels with some modern minimalist bathroom vanity designs widely accessible today.
The best part: many of these online modern vanities offer free shipping, included vanity sink top sets, and easy, no-fuss preassembled builds.
A used vanity may lack these contemporary perks.
Used Bathroom Vanities: To Buy or Not to Buy?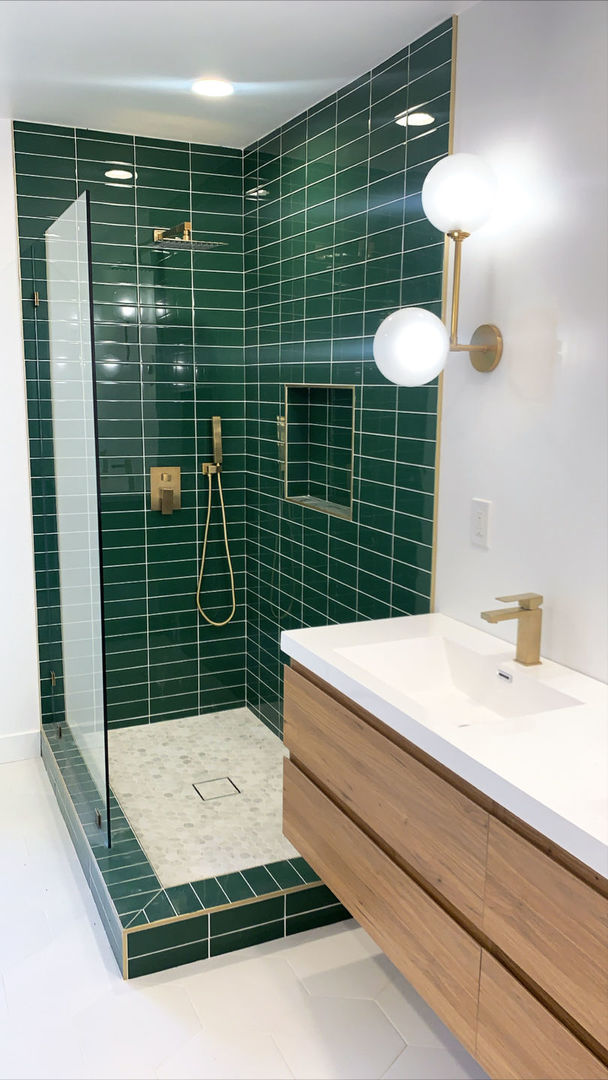 Bohemia Lina 84" Floating Vanity Collection in New England Oak
Is a used bathroom vanity a wise decision for your home?
Used vanities can be a lifesaver for those with tight budgets or a transitional space.
They can also be a great way for homeowners to remodel their bathrooms with rare, unique, one-of-a-kind vintage models from the past.
But here's the catch: many used vanities may come with hidden costs.
Depending on its state, repair, or maintenance work may be needed.
While the vanity itself might be cheaper, refurbishing or retrofitting it could add to the costs.
In summary, finding a good, reusable used vanity does require a good eye – both in terms of aesthetic and damage inspection.
When determining whether a used bathroom vanity is worth the investment, always consider the extent of the damage, the associated repair costs, and the final desired outcome.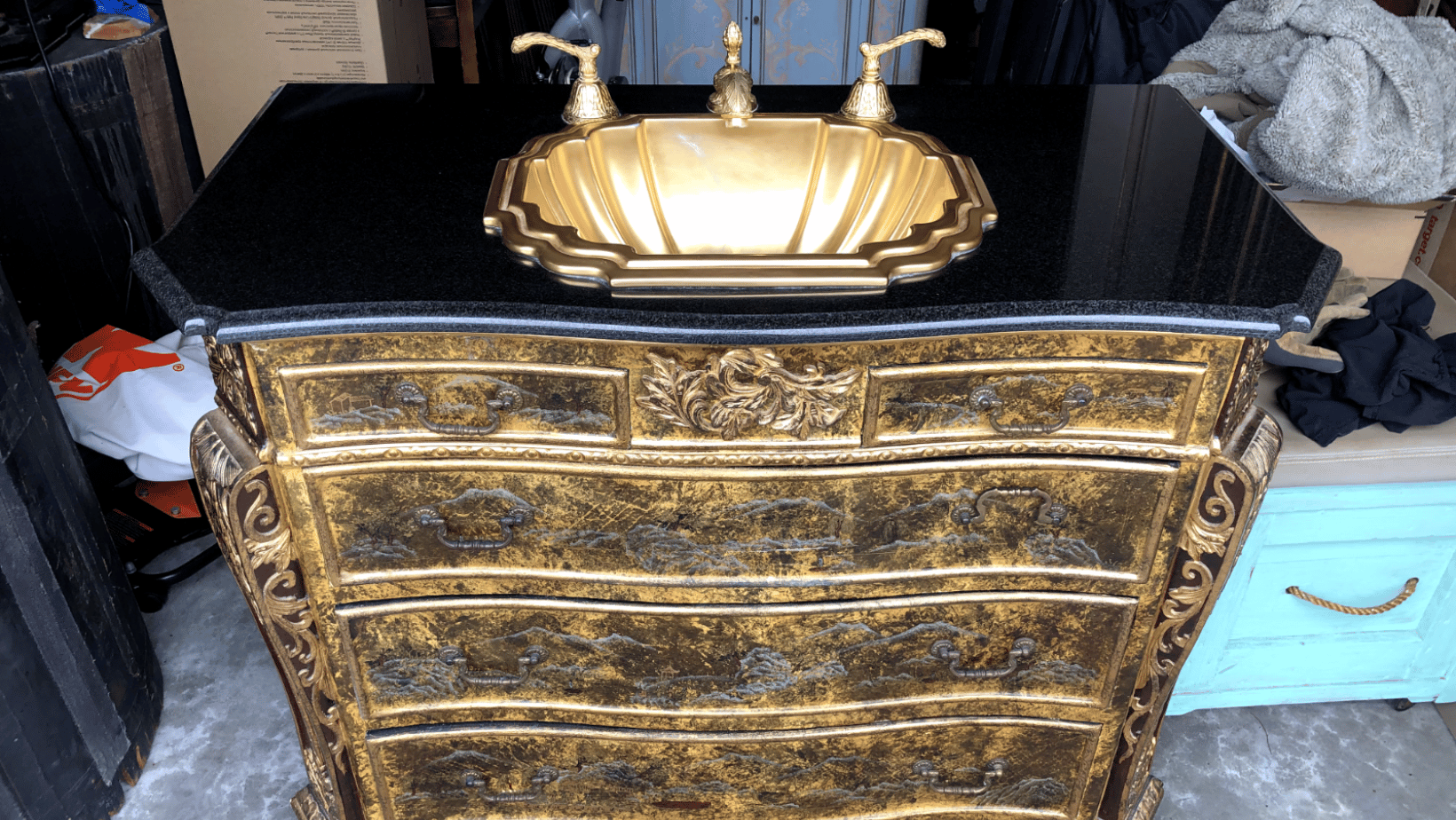 $8000 Used vintage Victorian bathroom vanity from Ebay.
In some cases, the charm and character of a vintage piece may outweigh the repair efforts.
For others, a new modern or classic vanity may be the more economical choice.
Either way, the choice is yours.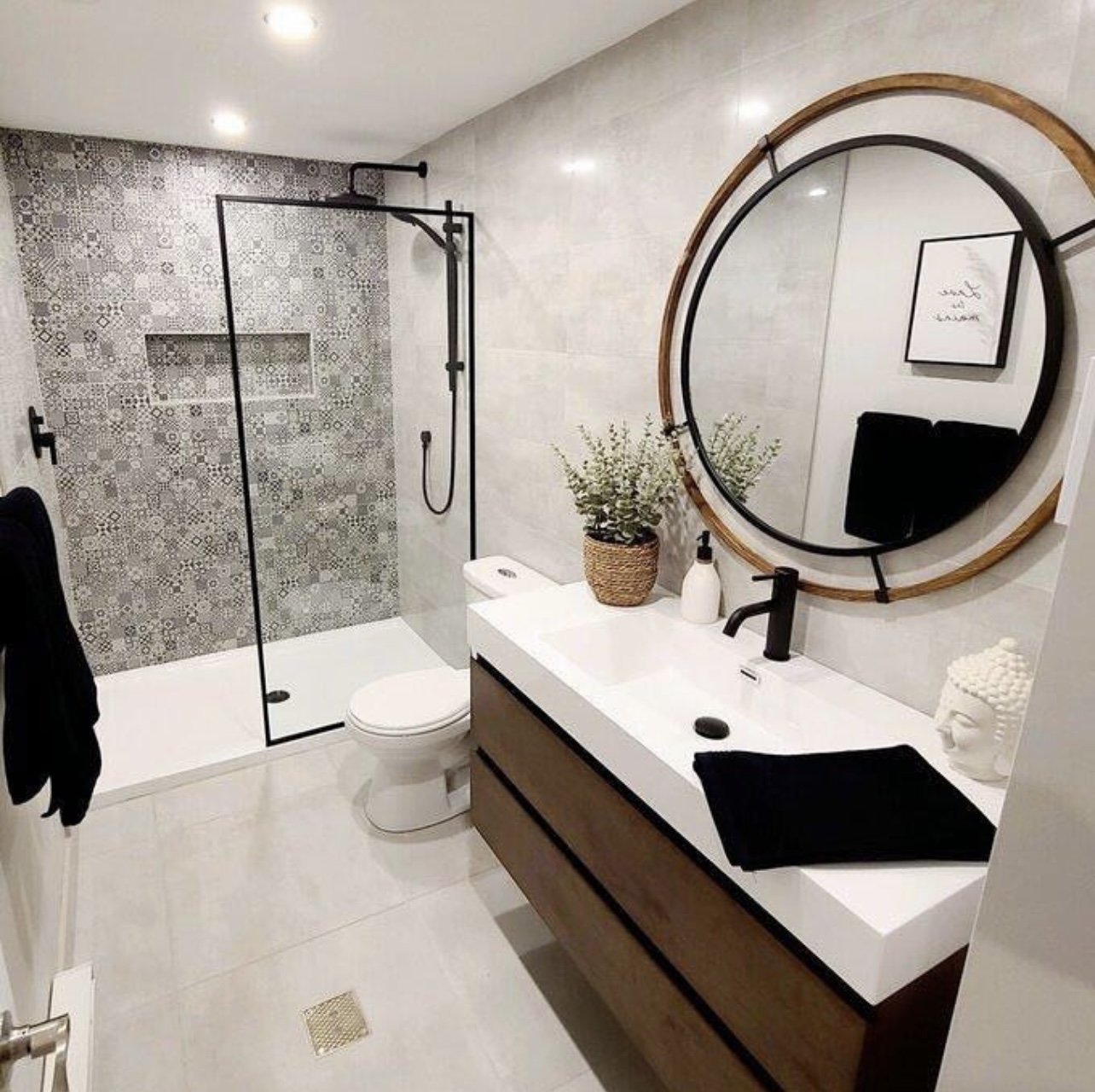 Bohemia Lina 42" Modern Floating Vanity in Rosewood | Moreno Bath Modern Floating Vanities
View our extensive collection of classic preassembled farmhouse and vintage-modern vanities here.